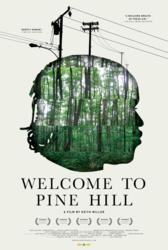 "Thoughtful and adventurous....
arrives at a powerful and resonant meaning."
- A.O. Scott (NY TIMES)
Los Angeles, CA (PRWEB) May 30, 2013
Arena Cinema and film distributor Oscilloscope Laboratories are presenting the award-winning film "Welcome to Pine Hill" to Los Angeles moviegoers for a one-week exclusive engagement.
Keith Miller's acclaimed film blurs the line between documentary and fiction and follows protagonist Shannon, a reformed drug dealer who is now an insurance claims adjuster, in the days following a grim medical diagnosis. Shannon, (portrayed in an extraordinarily intimate performance by first time actor Shannon Harper,) sets out to make peace with those around him and in turn finds his own peace beyond the cacophony of New York City.
Miller's screenplay is a mix of true events, embellished events, and fictitious events. A significant part of it is suggested by actual events in Harper's life, with his character based on himself.
The film will be screening at Arena Cinema from June 7th through the 13th for a one week engagement. Showtimes and information can be found at the Arena Cinema website.
"Our Los Angeles audiences understand and appreciate Arena Cinema showcasing new indie films in Hollywood," said Christian Meoli of Voltaire Media, which operates the cinema. "LA is the cinephile capital of the world. We're excited to be working with Oscilloscope Laboratories on this phenomenal great, new film."
About Arena Cinema
Arena Cinema showcases the best in Independent Film, the hard-to-find indie gems LA cinephiles search for and yearn to see that aren't getting the big screen love anywhere else! Formally a part of the historic Egyptian theater in the 1970s and 1980s when the venue was known to Los Angeles moviegoers as Egyptian 2 and 3, now it is an independent endeavor operated by Christian Meoli and Voltaire Media.
About Voltaire Media
Voltaire Media is a full service media company that specializes in Entertainment and Media Services in Los Angeles and nationwide. Our focus is on digital marketing strategy, brand identity development, corporate design, social media, strategic marketing concepts, SEO analysis, traffic acquisition, for clients in film, theatre, music, photography and television entertainment. We also procure and negotiate distribution and licensing in all platforms for completed films. We create strategic media campaigns, digital media planning, community relations and brand management, online reputation management, social network marketing, social media, content syndication, promotions, website consulting/content development and online marketing.