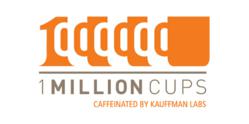 KANSAS CITY, Mo. (PRWEB) May 29, 2013
1 Million Cups™, a program to educate and connect entrepreneurs, chugs into its newest U.S. city this morning. Chattanooga, Tenn., is on track as the seventh city to host the weekly gathering that is building startup communities over cups of coffee and conversation.
1 Million Cups began in April 2012 in Kansas City, the hometown of its founding organization, the Ewing Marion Kauffman Foundation. Foundation leaders intend to expand the 1 Million Cups network to 20 cities by the end of 2013. To support the growth in its partner cities, the Kauffman Foundation also introduces today an enhanced website for the program and microsites for each participating city to share information with local followers.
"We're thrilled to add Chattanooga to the 1 Million Cups family, because this city is making big strides in entrepreneurship," said Nate Olson, a Kauffman Foundation associate and co-founder of 1 Million Cups. "Great ideas are found everywhere, and we're excited to see the startups and community forming in Chattanooga."
Chattanooga entrepreneurs, innovators and interested community members will meet at 9 a.m. each Wednesday at the offices of Harvest Creative, a branding firm. Today's inaugural presenter is Chattanooga Whiskey Co., which has had an exciting month. Legislation signed May 16 by Tennessee Gov. Bill Haslam cleared the way for the company to manufacture its product in the city, and a week later the startup successfully concluded a $10,000 Kickstarter campaign.
In each 1 Million Cups' city, local entrepreneurs drive the program as community organizers. Assuming the leadership roles in Chattanooga are Bill Brock, computational engineer at SimCenter Enterprises and managing director of engage 3D; Andrew Holliday, co-founder of Harvest Creative; and Allie O'Connell, manager of GIGTANK, a startup accelerator.
"When visiting Kansas City this spring, we were struck by 1 Million Cups' success in harnessing the energy of the city's entrepreneurs," Brock and O'Connell said. "We're confident the simplicity of this program will resonate with Chattanooga's growing startup ecosystem and become a weekly ritual for our innovators and entrepreneurs to connect."
Chattanooga joins Kansas City; Des Moines, Iowa; Houston; St. Louis; Cedar Rapids/Iowa City, Iowa; and Reno, Nev. in offering 1 Million Cups locally. Each Wednesday morning in each city, 1 Million Cups gives two early-stage startups the opportunity to present their companies to an audience of mentors, advisers, researchers, builders, makers and other entrepreneurs. Each founder presents for six minutes and then fields audience questions for another 20 minutes.
View the new website at http://www.1millioncups.com. Access the Chattanooga microsite at http://chattanooga.sites.1millioncups.com.
About the Ewing Marion Kauffman Foundation
The Ewing Marion Kauffman Foundation is a private, nonpartisan foundation that aims to foster economic independence by advancing educational achievement and entrepreneurial success. Founded by late entrepreneur and philanthropist Ewing Marion Kauffman, the Foundation is based in Kansas City, Mo., and has approximately $2 billion in assets. For more information, visit http://www.kauffman.org, and follow the Foundation on http://www.twitter.com/kauffmanfdn and http://www.facebook.com/kauffmanfdn.