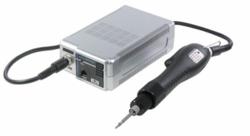 San Jose, CA (PRWEB) May 30, 2013
Mountz, Inc. introduces the LF-Series, a new economical line of brushless electric torque screwdrivers. These durable power tools feature a Swiss Maxon brushless motor design, which reduces the standard maintenance costs for electric screwdrivers. Additionally, costly mechanical micro switches have been eliminated in the LF-Series in favor of non-contact magnetic sensors. Mountz brushless electric torque screwdrivers are designed for precision torque control and are state-of-the-art in the assembly industry.
Brushless Electric Torque Screwdrivers
Screwdrivers with brushless motors have an extremely long operating life with no need for regular maintenance or replacement of expendable parts (carbon brushes, rotor, switches and other contact points). Heat generated by the motor is reduced and screwdriver performance is always at the maximum level resulting in reliable product quality. The brushless screwdriver ensures product quality, cost savings and a reduction in overall failures.
With almost no expendable parts and simple design, the brushless screwdriver life cycle is extended and maintains a clean working environment. The screwdriver requires less maintenance and part replacement and provides consistently reliable performance.
ESD Electric Torque Screwdrivers
In addition to lower maintenance costs, the LF screwdriver is ESD certified, ensuring less than 1 Ohm at the bit tip. ESD management in power tools ensures product quality, cost savings and a reduction in overall ESD failures. Manufacturing engineers involved with microelectronic products are aware of the importance of controlling Electrostatic Discharge (ESD) failures. Lapses in preventing the occurrence of electrostatic discharge can affect production yields, manufacturing costs, product quality, product reliability, reputation and profitability.
Static damage to electronic components can be realized as catastrophic or latent failures. Catastrophic failures are easier to detect and resolve. With this type of failure the part is "dead" and will not function. It may be costly to repair but is easy to manage. With latent failures the problem is much worse as the failure may not be detected in testing but is a "time bomb" waiting to happen. Since this product will get into the field and cause intermittent problems or failure in the field, it can be a much more costly problem.
The LF-Series features an Over Heat Protection (OHP) and Over Current Protection (OCP) that protects the electric screwdriver from damage or malfunction. The temperature detection powers down the unit and resets automatically when unit restores to acceptable levels. The LF-Series is designed with a LED display that signals the tool's status for the operator to clearly view.
The LF screwdriver models are available in "Push-to-Start" or "Lever-Start" configuration with various models covering a torque range of 0.8 to 15.6 inch-pounds. The power tool can be connected with the Scout screw counter. Complex fastening regimes with multiple screws and high-speed production can lead to missed screws and compromised quality. A screw counter helps manufacturers detect and eliminate costly screw-fastening errors during the assembly process.
Using a quality brushless electric screwdriver makes a safer world through accuracy and precision. Controlling torque is essential for companies to ensure their product's quality, safety and reliability isn't compromised. The failure of a three-cent fastener that isn't properly tightened can lead to catastrophic or latent failures. Fasteners that are insufficiently fastened can vibrate loose and excessive torque can strip threaded fasteners.