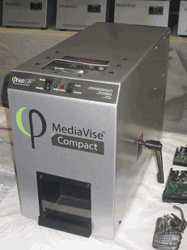 Computer hard disk drives hold an increasing amount of sensitive information, said David B. Partridge, President of Data Devices International, and they continue to spell financial devastation for unprepared users.
(PRWEB) May 30, 2013
The MediaVise Compact Destroyer completely destroys all 2.5 and 3.5 hard drives regardless of their size, format or type, including desktop and laptop drives (Maximum Feed Opening is 4" x 1.25" x 5.75"). It easily destroys cell phones, PDAs, Pagers, and machine electronics with confidential self-contained information.
"Computer hard disk drives and personal information devices hold an inordinate and increasing amount of sensitive and personal information," said David B. Partridge, President of Data Devices International, "and they continue to spell financial devastation for individuals, companies, financial institutions, government organizations, military installations, and credit card processors."
At the touch of a button, the MediaVise Compact patented* crushing plates deliver a staggering 40,000 pounds of force per square inch to the vulnerable platters, PC boards, and read heads of the drive to completely destroy the internal platter and all the electronics. The entire process is completely automatic and meets government specifications for Data Destruction. The unit is quiet, smooth and virtually vibration free--best of all, it plugs into a normal wall socket for office use.
The powerful MediaVise Compact Destroyer automatically crushes, bends, breaks and mangles the hard drive - including the data platters upon which data is stored and the heads which record the information. Complete physical drive destruction prevents the drive from being able to "spin" up, thus the data cannot be retrieved. Once the Hard Drive is completely destroyed by the MediaVise Compact, the data will no longer be retrievable.
The destruction process completely changes the hard disk drive physically in only 30 seconds. Drives that have been physically destroyed are easy to separate out for disposal. The powerful 40,000 psi MediaVise Compact physically breaks the hard disk into pieces--unlike other destroyers which only bend the platter. You can be certain that no readable drives will be accidentally released from the premesis.
The patented* MediaVise Compact Destroyer is the most operator friendly destroyer available. The operator only needs to drop the drive into the feed slot, and the machine automatically inserts the drive into the crushing mechanism. When the drive has been completely destroyed, it drops into the crushed receptacle for disposal. Everything is completely automatic.
For additional information, contact Patty Grover or visit http://www.datadev.com.
Data Devices International, Inc. is a leader in the field of data security products and services, specializing in hard drive duplicators and erasers, degaussers, hard drive destroyers, hard drive shredders, magnetic tape maintenance equipment, CD, DVD, and Blu-Ray duplicators and printers, and top security shredders and destroyers.