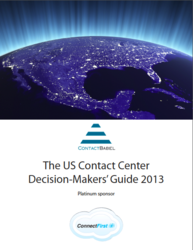 We love to see so much good data come together as a useful tool for center owners and operators.
Boulder, Colo. (PRWEB) May 29, 2013
The U.S. Contact Center Decision-Makers' Guide 2013, written by ContactBabel, is one of the largest and most comprehensive studies of all aspects of the U.S. call center industry. The report studies the performance, operations, technology and HR aspects of U.S. contact center operations.
The guide breaks down and analyzes the six major pain points and issues that affect the contact center industry. Including:

Improving quality and performance
Maximizing efficiency and agent optimization
New media and the customer of the future
Increasing profitability
HR management
Strategic directions
The report identifies specific solutions to the issues that affect the contact center industry. It references primary research that has been done relevant to these issues, including a comprehensive statistical analysis in graphical and tabular form. "We love to see so much good data come together as a useful tool for center owners and operators," said Geoff Mina, the CEO of Connect First. "We educate and strategically guide our clients, much in the same way that this report helps inform leaders of centers make the smartest decisions."
Connect First addresses outbound dialing and maximizing agent efficiency through call blending in a section of the report. Traditional outbound calls were typically used to sell products to new and existing customers. As a rising thought leader in the cloud-based contact center industry, Connect First believes in using outbound dialing to provide exceptional customer care. Specifically, Connect First believes in using outbound dialing to proactively inform customers about events and circumstances that will affect them, as well as a using it as a tool that can drive business.
Connect First also explores call blending as a potential solution to some of the major pain points of the contact center industry. Call blending gives the ability to deliver both inbound and outbound calls seamlessly to the agent and can lead to increased agent efficiency, streamlined staffing and improved customer service.
About ContactBabel: ContactBabel is the leading analyst firm in the call center industry. ContactBabel has massive ongoing primary research projects and years of experience analyzing the call center industry.
About Connect First: Connect First is an award-winning SaaS telecommunications and cloud contact center software provider that focuses on customer satisfaction and elegant hosted solutions. Connect First offers a robust platform, designed and supported by a team of highly experienced engineers, designers and business analysts, and backed with personalized in-house customer care. Solutions include Cloud Routing, Inbound ACD, Outbound Dialing, Call Tracking, Interactive Voice Response (IVR), Voice Broadcast, Disaster Recovery, Predictive Dialer, Real-Time Telemetry, CDR Reporting, Live Agent Chat and more. Through a consultative approach with each customer interaction, Connect First builds customized solutions to meet the needs of a discerning customer base. Visit http://www.connectfirst.com for more information or a free consultation with a contact center solutions expert.