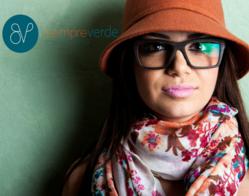 We believe the future of eyewear fashion is in the discovery that perfection has yet to come
Marina del Rey, Ca (PRWEB) May 30, 2013
The Los Angeles based and operated Siempre Verde cultivates unique, upscale design in eyewear while championing environmentally friendly practices. Siempre Verde has defied all conventional wisdom in its' new optical line, they have produced a sleek, sexy and curvy line all made out of wood. Siempre Verde's featured piece in its high-end line of men's and women's optical collection is Venice, in Zebra or Ebony Wood. They have put a modern twist on eyewear fashion and this prescription wood frame, says it all.
The VENICE evokes the funky playground of its namesake. This two-piece frames unique design allows flexibility enabling you to configure as a sunglass, prescription frame, or both. VENICE is part of the siempre verde Madera- all wood collection, assembled from sustainable wood sources.
Like all of Siempre Verde eyewear, Venice is 100% handcrafted with every step from veneering to precision cutting to shaping and finishing work, this is the fine craftsmanship you would expect from a quality designer. The lightweight frame is as comfortable as they are flattering, and the stretch to fit spring hinges add comfort and insure a perfect fit for anyone.
Siempre Verde is expanding their offering by working with a Los Angeles based optometrist to fit your frames with your custom single-vision prescription. They offer clear, prescription sunglasses or photochromic lenses that transition from clear to a tinted eyeglass in the sun. All three offerings come standard with anti-reflective coating, because Siempre Verde is committed to doing what eyewear was meant to do- protect your vision. Each lens offering is impact and scratch resistant, lighter and provide the highest protection from the sun's harmful UV rays. They are the first wood designer to deliver prescription wood eyewear to your door.
Because each piece of wood is unique, so too is their eyewear, you'll never see two exactly alike. Siempre Verde, simply put, has produced a wearable work of art.
"At Siempre Verde, our formula is clear, to make exceptional eyewear with a commitment to the environment," says, Rose Ann Salumbides. "We believe the future of eyewear fashion is in the discovery that perfection has yet to come."
Siempre Verde's mission is to provide style-conscious urban professionals with naturally inspired accessories that can also raise their environmental awareness. Its unique value propositions include free shipping, prescription wood eyeglasses delivered to the customer's door, a virtual try-on program, and a high level of customer service.
Urban dwellers and fun-loving beachgoers looking forward to their upcoming season in the sun can learn more about Siempre Verde's product line by visiting http://www.ShopSiempre.com.