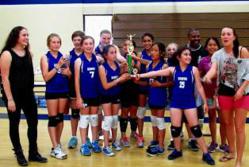 I'm very proud of our 5th and 6th grade girls, especially considering how young our team is.
Northridge, CA (PRWEB) May 28, 2013
On Wednesday, May 22, Highland Hall Waldorf School's 5th/6th grade girls' volleyball team triumphed soundly over Heschel Day School in two sets to become the San Fernando Valley Private School League champions. Game scores were 25-17 and 25-15. The game was held at Faith Baptist School in front of a large crowd of Highland Hall boosters including many faculty, parents and students. Earlier in the week Highland Hall's Lady Hawks narrowly defeated Faith Baptist in a last minute comeback to earn their place in the finals. The school congratulates its 5th & 6th grade players, coach Donald Harrison and assistant Gal Tabachnik for a fantastic season!
The Highland Hall Hawks girls volleyball team is the only team in the league with fifth as well as sixth grade players.
"I'm very proud of our girls," says Highland Hall's volley ball coach Donald Harrison, "especially considering how young our team is."
Highland Hall Waldorf School is a member of the Westside League which includes a number of other private schools in the area. The school's teams have won many league championships and has received the Westside League award for sportsmanship for the past several years.
Coaches and teachers at Highland Hall work together to help student-athletes balance their academic work with their athletic endeavors. All student-athletes are expected to embrace the school's tradition of respect, discipline, sportsmanship and fair play. High School Teams include: Girls Volleyball, Co-ed Soccer, Girls Basketball, Boys Basketball, and Girls Softball. Middle School Teams include: Girls Volleyball, Girls Basketball, and Boys Basketball.
A private school in Northridge, CA, Highland Hall's students come from various cities in the San Fernando Valley, including Northridge, Calabasas, Woodland Hills, Porter Ranch, Granada Hills, Sherman Oaks, Studio City and Encino. Highland Hall was founded in 1955 and is the oldest Waldorf school in the western United States. It offers an independent alternative to public and other private schools, providing the Waldorf Curriculum from Early Childhood through 12th grade. Highland Hall's High School is among 40 Waldorf high schools nationwide. A non-profit school, Highland Hall does not discriminate due to race, religion, gender, national origin, disability, or other basis protected by law.