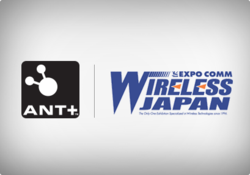 ANT offers lower power with unlimited connection flexibility that just isn't available in other systems
Tokyo, Japan (PRWEB) May 28, 2013
ANT Wireless, the leader in interoperable, ultra low power sport, fitness and health products, demonstrates the ease of wireless home and industrial automation at Wireless Japan, May 29-31, 2013. Showcasing the extensive capabilities of ANT's sophisticated RF protocol as well as the established ANT+ interoperable ecosystem, ANT Wireless once again brings progressive solutions to today's quick-to-market environment. A functioning, multi-point home lighting system and globally-available ANT+ sport, fitness and health products are being presented at the ANT Wireless booth (L11) alongside ten year partner, Nordic Semiconductor, at the Tokyo International Exhibition Center (Tokyo Big Sight).
"ANT goes far beyond our progressive solutions for sport, fitness and health," states Rod Morris, VP, ANT Wireless. "Our proven, expandable network topology matched with mobile connectivity enables the perfect energy management solutions for residential and industrial applications. ANT offers lower power with unlimited connection flexibility that just isn't available in other systems."
ANT Wireless brings the complete package to the emerging market of wireless home and industrial automation:

Reduced development time combines proven network sophistication with mobile control
ANT practical mesh* networks ensure that multiple points can be controlled by multiple controllers
Easy, ongoing control and monitoring of networks
Efficient after-market add-on to homes and industrial settings targets energy conservation/management
Control of thousands of lights at a time
Low price point
Great battery life on a coin cell
Home Lighting Control Use Case:
Demo of ANT's proven network capability controlling real world lighting environments. PC app associates lights to rooms and control set up. Lights controlled via Android app on a Sony phone.
Other ANT Practical Mesh Use Cases:
Access and security - eg. front door lock. ANT enables the ability for multiple door locks to network together while maintaining connection to other sensors and controllers such as cell phones.
Temperature sensors
Industrial process control
Manufacturing line control
Sport, Fitness and Health Solutions:
In addition to home and industrial automation, the ANT Wireless exhibit also includes the extensive ecosystem of globally-adopted ANT+ products for sport, fitness and health monitoring. The broad assortment of devices includes those available in Japan by brands such as Bontrager, CatEye, CycleOps, Garmin, Geonaute, Qualcomm Life, Sony, Timex and Wahoo. Newly certified products are also featured including the Suunto Ambit Series of GPS Sport Watches, the Mio Cyclo GPS Bike Computers, o-synce Remote Control, and the Pioneer PotterNavi cyclocomputer.
*ANT Practical Mesh – As ANT implements the basic building blocks of a mesh topology, customers are able to pick and choose the pieces required for a particular application thus creating practical mesh topologies. Examples include connected star, relays, and tree networks.
###
About ANT / ANT+ (http://www.thisisant.com)
ANT is a proven protocol and silicon solution for ultra-low power (ULP) practical wireless networking applications.
ANT+, (managed networks built on the base ANT protocol) defines device profiles that specify data formats, channel parameters and network keys. This leading ultra-low power (ULP) wireless technology, allows effortless communication between monitoring devices for health, fitness and sport. Leading brands including Garmin, Timex, Sony Mobile, A&D Medical and CycleOps use ANT+ technology to create monitoring systems that work simply and reliably.
The ANT+ Alliance is an open special interest group of companies who have adopted the ANT+ promise of interoperability. The Alliance ensures standardized communications through optimized brand value and partnerships with other top tier products.
The company behind ANT Wireless is Dynastream Innovations Inc. (http://www.dynastream.com). Dynastream was established in 1998 and became a wholly owned subsidiary of Garmin Ltd. in December 2006. Dynastream is based in Cochrane, Alberta, Canada, and is a world innovator in the research and development of inertial and wireless technology.
ANT+ Product Directory (http://www.thisisant.com/directory)
The ANT+ Product Directory is a complete inventory of all ANT+ certified or verified products. It is a tool designed specifically to help consumers source hundreds of industry-leading devices and all compatible products within the vast ANT+ ecosystem. Devices may be searched by product name, brand, activity or product category, allowing the consumer to create a monitoring system that meets their specific needs.