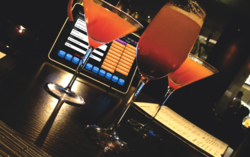 Las Vegas, Nevada (PRWEB) May 29, 2013
Prelag Partners announces the latest release to the Next Gen Dine mobile and web POS system. The new hostess module is offered within the Next Gen Dine software and is designed to facilitate the process of making reservations. With the new module, hostesses can make reservations, manage waiting lists, and page waiting customers by using the iPad or iPad Mini.
The hostess module contains new features which allow hostesses to make reservations by name, size, date, and time desired by the party. If the customer desires a specific table at the restaurant, that can be accommodated as well through the new module. When the reservation is set, a confirmation text will be sent out to the customer with the date and time set. Once the reservation is made, it will be added to a list and tracked by time of reservation. A text will be sent to the customer informing them that their table is ready when the table becomes available. The hostess can choose to page the customer several times if needed.
Hostesses can see which table is occupied and which table is available through their station. Tables that are dirty and who is the server for that table can also be tracked through their station.
This new module is the first of its kind in the web POS market. For more information, please contact Paul Roberts by phone at 1-877-342-2218 or email at paul(at)nextgendine(dot)com.
Next Gen Dine is tablet-based, mobile point of sale software designed for the iPad. Restaurant owners can now capitalize on the benefits of a full-featured POS system for a fraction of the cost of a traditional POS. Due to the mobility offered by the software, employees can take orders directly at the table, take credit card payments at the customer's side, and drastically improve restaurant operating efficiency. Orders are sent directly to the appropriate prep. station immediately, therefore decreasing order turnaround time. Next Gen Dine also offers restaurant owners customer loyalty, gift card, social media, and fine-grained marketing tools.
##