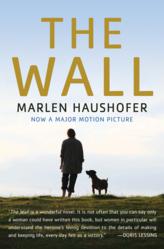 Ambitious adaptation of a fable-like feminist novel provides an impressive one-woman showcase for lead Martina Gedeck.

— Hollywood Review
(PRWEB) May 29, 2013
"I can allow myself to write the truth; all the people for whom I have lied throughout my life are dead," writes the heroine of Marlen Haushofer's The Wall, a quite ordinary, unnamed middle-aged woman who awakens to find she is the last living human being. Cleis Press has just published a new edition of The Wall to coincide with the film's release.
Award-winning director Julian Roman Pölsler breathes life into this classic post-apocalyptic novel in a heartwrenching and beautiful eponymous film. The Wall film premieres this Friday in New York at the IRC Center, and will be available in theaters beginning June 7.
Martina Gedeck, star of the Academy Award-winning film The Lives Of Others, brings a vivid intensity to this mysterious and riveting tale of survival set in a spectacularly beautiful Austrian mountain landscape. The Wall is a gorgeous, mesmerizing adventure film that raises profound questions about humanity and our relationship to the natural world.
Director Julian Roman Pölsler is determined that this story be remembered, and writes in the afterword that "the novel and the film based upon Haushofer's masterwork gets at something of the human condition that no other work of fiction does—the truth of yourself when you are the last remaining member of the human race." Harrowing and haunting, this classic story will continue to captivate readers (and now viewers) worldwide.
Julian Roman Pölsler directed the upcoming film adaptation of The Wall, and has been nominated for an Austrian Film Award for Best Director and Best Screenplay for the film. He also wrote the afterword for the latest edition of the book.
Martina Gedeck, who portrays The Wall's heroine, is one of the most influential and respected character actresses in Germany. Martina plays the lead role of the GDR actress Christa-Maria Sieland in The Lives of Others, which claimed an Academy Award for Best Foreign Language Film and a German Oscar
Marlen Haushofer published the novella "The Fifth Year" in 1952 and earned her first literary award in 1953. Her first novel, A Handful of Life, was published in 1955. The Wall, published in 1962, is considered her greatest literary achievement. Variously interpreted as an ironic Robinson Crusoe story, a philosophical parable of human isolation, and as dystopian fiction, The Wall is currently recognized for its important place in traditions of feminist fiction. Haushofers's last novel, The Attic, was published in 1969. Her last short story collection, Terrible Faithfulness, brought her the Austrian state prize for literature. She has been translated into several European languages. The Wall is Haushofer's only work available in English..