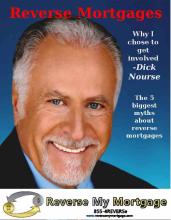 Reverse My Mortgage has helped people plan for their retirement so that they can enjoy themselves and live worry free.
Salt Lake City, UT (PRWEB) May 29, 2013
Getting a reverse mortgage in Utah brings up a lot of concerns for seniors. This new reverse mortgage calculator includes a video assistant that steps them through the process.
When this interactive video presentation goes live in the summer, it will be among the best one-on-one tools to help homeowners understand the nuances of home equity conversion mortgage. By designing this free online tool, RMM has given people the ability to calculate an estimate for their intended use of the loan including: better retirement, lump sum, monthly income, medical bills, eliminate payments, consolidate debt, home improvements, and vacation or travel. The tool has helped people to determine if a reverse mortgage is right for them. Through this well designed, and informative, video reverse mortgage calculator, people can better plan for their retirement. This means not having to worry about monthly bills or how they are going to pay for their medical supplies. For those seniors that have applied to acquire a home equity conversion mortgage and had their loan approved, they can maximize the benefits of their retirement. There are many benefits that come with Utah reverse mortgage loans, including but not limited to, benefits such as eliminating house payments or regular monthly income.
For seniors who are getting ready to enter retirement, additional stress with their financial situation is not ideal. With the reverse mortgages offered from RMM, retired homeowners can relieve their financial stresses so that they can focus on relaxation. By using RMM's signature online video reverse mortgage calculator, people planning for retirement have been able to get an estimate on how much of a lump sum, or monthly income they will receive.
What are the perks of getting a home equity conversion mortgage?
When it comes to reverse mortgages, RMM is highly experienced and well recommended. They provide many different resources to educate people on whether or not this type of loan is right for them.
A Utah reverse mortgage is somewhat difficult for most people to understand. This is why RMM has announced the makings of a plain English video calculator to show them how HECM loans work. This new tool is scheduled for release in the summer of 2013, and will first be tested in Utah. After creating this video, RMM will assist those who have questions about lump sum and monthly income payments, and explain how they can benefit from receiving them. In the video, they will answer all the frequently asked questions such as: What are the pros and cons? How does it work? How are these loans paid back? Will my family be protected? RMM can provide people the opportunity to retire without the burden of financial stress, and can deliver the information needed to determine if a reverse mortgage is right for them. For more information on RMM, please visit their website http://www.mortgagereversecalculator.com/.