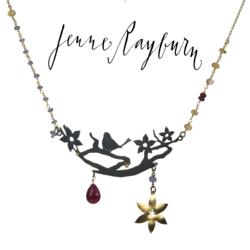 Jenne Rayburn's jewelry designs are made by hand in Massachusetts using vintage costume jewelry and up-cycled materials such as discarded findings and components from bygone jewelry manufactures.
Boston, MA (PRWEB) May 29, 2013
Stylishly thoughtful objects for personal adornment, and the adornment of interior spaces, have always inspired Jenne Rayburn. Her jewelry collections exemplify this point of view, and it is no wonder that her handcrafted designer jewelry is a successful fusion of found objects and vintage components that are re-purposed or re-imagined into beautiful contemporary jewelry.
Vintage inspired and incorporating eye-catching weathered and antique components found recently while browsing the May Brimfield Vintage Fashion and Textile Show, Jenne Rayburn transforms old into new again. "Sometimes the found objects star as the focal point, such as vintage glass earrings or a vintage steel button used as a pendant, while other elements are cast in metal to create unique new design elements," explains Rayburn, founder and designer at Jenne Rayburn Handcrafted Jewelry and Wearable Art. "Ancient looking pieces often become catalysts for new design ideas. I get very excited about reinventing and transforming something found into something completely fresh."
Jenne Rayburn's designs are made by hand in Massachusetts from vintage textiles, buttons, and costume jewelry, and with up-cycled materials such as discarded findings and components from bygone jewelry manufactures. By the 1950's most of the world's costume jewelry was being made in America, and most American costume jewelry was made on the East Coast in Rhode Island and New York City, with stones imported from Swarovski and other European manufacturers. "I feel so lucky to have a wealth of treasures and knowledgeable sellers in my own back yard," notes Rayburn. "I look forward to chatting with people at Brimfield about jewelry history and culture as much as I do discovering a new piece for my collections." Jewelry is a deep love of Jenne's because of its role in expressing individuality, for its link to the past, and its symbolism of the natural world.
Not being confined to precious metals is another appealing aspect of working with recycled, up-cycled and re-purposed costume jewelry. "I am an enthusiastic fan of statement jewelry, which can be a necklace that is bold and chunky, or a series of necklaces that are delicate and layered," says Rayburn. "Designers of costume jewelry can take more risks, and really play with scale and materials, while remaining affordable." Rayburn sees her work both as the exploration of materials and as the outcome of her ideas and process. "Stories and meaning are very important to my work," explains Rayburn "I am drawn to objects that are authentic and have a story. The jewelry I make builds on this idea to create a new narrative tied to a rich legacy."
Jenne Rayburn's necklaces, pendants, bracelets, and earrings, made with sterling silver, brass,14k gold, linen, leather, and silk, also include vintage glass and semi-precious gemstones. Retail prices range from $34 to $258.
Visit Jenne Rayburn's collections
http://www.jennerayburn.com
Visit Jenne Rayburn on Facebook
http://www.facebook.com/Jenne.Rayburn
About:
Jenne Rayburn is a Boston-based jewelry/textile artist who also studied interior design and architecture, and her work explores the convergence of architecture, design, technique and identity. Balancing the demands of a career and a growing family, Jenne is a mother, wife and daughter who designs for herself and all the women in her life who want to feel uniquely beautiful and powerful. It is her hope that the wearers of her pieces will find joy in a delightful artistic statement, and also something that enhances their individuality and confidence. Her work is suitable for wedding jewelry and is carried in local galleries and online. Please visit http://www.jennerayburn.com for Jenne Rayburn's online flagship store. For wholesale information, please visit jennerayburn.com/wholesale.com