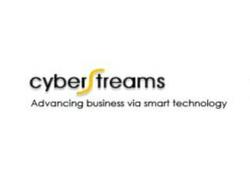 Seattle, WA (PRWEB) May 30, 2013
Seattle-based IT managed service provider CyberStreams Inc. is known for setting the bar high when it comes to providing high quality up-to-date services to their clients. The company lived up to this reputation recently announcing industry-leading developments in Mobile Device Management.
CyberStreams has begun to offer Mobile Device Management (MDM) as part of its remote maintenance service offering called RM3. Specifically, MDM software remotely monitors, manages, and maintains mobile devices across a business. This includes giving businesses the ability to remotely control data, applications, and configuration settings on company mobile devices from a single dashboard. CyberStreams MDM technology allows business clients to reduce costs and risks associated with mobile devices use by controlling and protecting data.
The development of CyberStreams' MDM services is a response to a huge demand in the business world for secure management of mobile devices. According to a recent study, by 2017 about half of the world's companies will be encouraging a "BYOD" policy (Bring Your Own Device). This gets around providing a smartphone or tablet for every employee to use for work. The catch is, these devices will have company data on them and left unchecked, this can become a massive liability.
The future BYOD shift has created concerns regarding mobile security and management of personal devices in the business world. As companies encourage employees to bring and use personal devices for work, CyberStreams' MDM platform prevents BYOD policies from become a chaotic and dangerous corporate risk. Business owners want to be sure that sensitive company information will not be leaked through mobile devices.
CyberStreams has responded to these concerns by adding MDM services to their existing remote IT monitoring and management service packages. CyberStreams' unique RM3 software allows CyberStreams to aid their clients by collecting mobile device information, remotely configuring devices, tracking locations, and restricting access.
The uses for this software are endless. For example, if a smartphone used by an employee for work is stolen, CyberStreams can remotely lock, wipe, or reset any information stored on the device. This protects businesses, while allowing them to remain at the cutting edge of mobile technology.
The consensus at CyberStreams is that MDM service is a necessary element of any managed IT service provider's offerings. Right now, CyberStreams is providing monitoring and management capacities for all major smartphones and tablets including devices from Apple, Google, Microsoft, and Research in Motion.