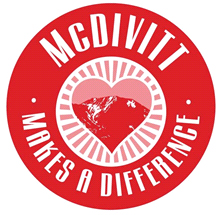 I couldn't be prouder of our team's accomplishment, and knowing this money is going to help fund research and find cures that will truly make a difference in people's lives.
Colorado Springs, CO (PRWEB) May 30, 2013
McDivitt Law Firm will celebrate reaching its fundraising goal of $10,000 by walking as a group in the 2013 Heart & Stroke Walk in Colorado Springs on June 1st at the University of Colorado – Colorado Springs Campus. The firm will be joined by its youngest team member, 8-year-old Gabrielle Maiorana, who is recovering from heart surgery she had less than a year ago.
"I am seven months post heart surgery and thank my doctor, hospital and AHA for my quick recovery," said Gabrielle, who is the daughter of McDivitt Law Firm staff member Karen Dowling-Maiorana.
Gabrielle was an inspiration for many of the more than 100 team members who joined McDivitt Law Firm in its fundraising efforts this year. On her own, Gabrielle has raised more than $700 for an organization that she says helped save her life.
How They Did It
The $10,000 goal was met after five months of consistent effort from McDivitt Law Firm staff members and their families. The fundraising campaign included silent auctions, a jump rope station at Centennial Elementary School, office-wide luncheons, a pie-in-the-face contest, and one of the firm's most successful fundraisers – putting in cash to make David McDivitt sing and dance to Beyoncé's song, "All the Single Ladies."
"Our team members have worked tirelessly to reach the goal they set of $10,000," said David McDivitt, Vice President and COO of McDivitt Law Firm. "I couldn't be prouder of their accomplishment, and knowing this money is going to help fund research and find cures that will truly make a difference in people's lives."
The firm will hold a barbecue at its 19 E. Cimarron office at 12:00pm on Friday, May 31, 2013 to celebrate everyone's fundraising success, and to kick-off the team's part in the Heart Walk on Saturday, June 1.
McDivitt Makes A Difference
Whether McDivitt Law Firm pays for safe cab rides home, sponsors local education programs, or supports area charities, the law firm is committed to helping others. That's why the law firm created McDivitt Makes A Difference—a year‐round program that encompasses all of its community efforts. To learn more, visit http://www.McDivittMakesADifference.com.
About McDivitt Law Firm
McDivitt Law Firm is a Colorado-based law firm that has been providing legal representation to injured victims and their families throughout the state of Colorado for the past 20 years. Founded by Mike and Karen McDivitt, McDivitt Law Firm has an experienced team of lawyers, paralegals, and support staff who provide their clients with caring and thorough legal service. Visit http://www.McDivittLaw.com to learn more.
###