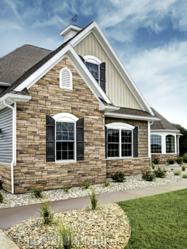 Same great products delivered faster
Deer Park, NY (PRWEB) May 30, 2013
Faux Panels yet again provides customers more options by adding "Quick Ship" delivery on many product lines. Now people who need a quicker turnaround time can get it.
"We're all about providing our customers with as many options and as much convenience as possible. With Quick Ship, we can drastically cut the processing and delivery time," said Steve Barron, president of Faux Panels.
While normal delivery times are just fine for contractors, architects and most home owners, sometimes a project will come together quickly. Not having to wait for the stone veneer needed helps a great deal.
Quick Ship is also a great option for people making repairs after bad storms or other unexpected events. It will enable home owners to put their lives back together faster.
The Quick Ship panels are exactly the same as the usual faux panels – made from durable polyurethane cast in molds of real stone and brick. The only change is the much faster delivery time for a nominal fee.
Quick Ship is available on a wide variety of Faux Panels' most popular products including Wellington Dry Stack in Earth and Quarry Gray; Regency Stacked Stone in Earth, Honey and Potomac; Regency Old Chicago Brick in Antique and Glacier White; Norwich Colorado in Sierra Brown, Desert Sand and Golden Wheat; Norwich Dakota Stone in Sierra Brown; Norwich Kentucky Dry Stack in Earth and Sierra Brown; Oxford Ledgestone Tan; Oxford Old World Brick; and more.
"The world today moves faster and faster so having quicker delivery times helps a lot. With Quick Ship we can better meet our customers' time needs," said Barron.
FauxPanels.com is an industry leader due to its outstanding customer service and the best selection of realistic faux brick, stone and wood panels and columns on the market. Its products have been regularly featured on television shows such as "Celebrity Apprentice" and numerous appearances on "Extreme Makeover: Home Edition." FauxPanels.com is a subsidiary of Barron Designs Inc., a family-owned design and home improvement business operating since 1972. For more information, visit FauxPanels.com