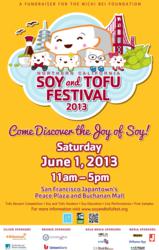 We are delighted to see the festival share this generation of Asian American's fascination with food and culture."
SAN FRANCISCO, Calif. (PRWEB) May 29, 2013
Now on its third year, the Northern California Soy and Tofu Festival returns on June 1, 2013 at San Francisco Japantown's Peace Plaza and Buchanan Mall, sponsored by Myx TV. Hosted by NBC Bay Area reporter George Kiriyama and KTVU-TV reporter Jana Katsuyama, the festival will feature vendors, children's activity areas, food sampling, and its signature Soy and Tofu Dessert Competition.
"This festival is essentially a tribute to the almighty soybean, truly one of the most versatile food products in Asian culture, if not the world," said Kenji G. Taguma, President of the Nichi Bei Foundation and co-chair of the Festival. "We're excited about creating a fun venue to celebrate the joy of soy and learn about the benefits of soy and tofu, and at the same time raising critical funds to support our community-serving mission."
While the festival is free and open to the public, proceeds fund the Nichi Bei Foundation which publishes the Nichi Bei Weekly – the first nonprofit ethnic community newspaper of its kind in the country – and its website.
This year's festival also highlights the critical need to register Asian Pacific Americans for the Be The Match Registry of the Asian American Donor Program. The vastly multiracial community remains vastly underrepresented in bone marrow donors that are critical to saving lives.
"Myx TV is proud to support the Soy & Tofu Festival in San Francisco, closing numerous celebrations this Asian American & Pacific Islander Heritage month" says Tiffany Phung, Marketing Manager for Myx TV. "We are delighted to see the festival share this generation of Asian American's fascination with food and culture."
For more information on exciting activities and vendors, visit http://www.soyandtofufest.org.
##
ABOUT Myx TV®:
Myx TV is the fastest growing Asian American entertainment network in the United States. Broadcast in over 10 million households, with millions more viewing its programs online, Myx TV is one of the few entertainment brands targeting the broader pan-Asian-American community. The network's award winning programming is a unique combination of original and syndicated shows, including reality, live music performances, animation, and independent film and Asian cinema airing 24/7 in English. To find out more information on Myx TV, visit http://www.myx.tv, facebook.com/myxtv and twitter.com/myxtv.