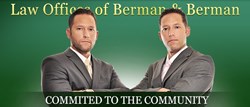 Accident & Injury Lawyers, The Berman Law Group are Committed to the Orlando Community and Anyone Injured Over the Memorial Day Holiday Weekend.
Orlando, Florida (PRWEB) May 29, 2013
The The Berman Law Group , Florida injury and accident lawyers have just announced they are offering legal consultations for everyone who may have been hurt or injured over the Memorial Day Weekend in Orlando, Florida. The Berman Law Group knows the Memorial Day Holiday is meant to be a fun weekend and many people like to celebrate it in style. With this celebration come lots of accidents and injuries due to the recklessness of people throughout the state, but especially in Orlando. If anyone was injured over the weekend and is in need of accident and personal injury lawyers in Orlando, the Law Offices of Berman and Berman are there for them. They can be reached at 1-877-529-8995 or locally via their local legal hotline at (407) 219-9836. In addition, people interested in speaking with them may do so via their website found here: http://personalinjurylawyersorlandofl.com
The Berman Law Group is offering legal consultations for all people who were injured over the weekend and are not sure what to do. They are committed to the residents of Orlando, and are available 24 hours a day and 7 days a week. The Berman Law Offices specialize in accident cases, whether they be car, truck, motorcycle, or boat accidents. They also handle wrongful death, product liability, workers compensation, defective drugs, faulty medical equipment and devices, environmental hazards, workplace accidents, nursing home negligence, slip & fall/premises liability, family law, criminal law, corporate & business law, toxic torts , spinal cord injuries, traumatic brain injuries, burns, amputations, estate planning & probates, and general commercial litigation in the Orlando area. They are able to help people who have been injured in the following areas surrounding Orlando, Fairview Shores, Conway, Pine Castle, Pine Hills, Azalea Park, Winter Park, Oak Ridge, Maitland, Lockhart, Goldenrod, Fern Park, Altamonte Springs, Forest City, Doctor Phillips, and Casselberry. For immediate legal assistance, call them anytime at 1-877-529-8995.
At Berman and Berman, the attorneys work their hardest to get their clients the best results possible, in or out of court. The Berman Law Group are full of dedicated personal injury lawyers who believe in helping victims pursue financial restitution from the party who caused them harm. Utilizing years of experience and in-depth knowledge of this area of the law, the Berman Law Group is dedicated to protecting the rights and interests of those who have sustained pain and suffering at the hands of a reckless party in Orlando, as well as throughout the state of Florida.
The Berman Law groups has the resources and skills necessary to ensure that their clients receive the compensation that is due to them and are willing to fight for their rights. Their extensive knowledge in the field of personal injury and motor vehicle law benefits their clients immensely. They are able to accurately estimate how much an injury is worth, and get the maximum amount for their clients. They know the facts that increase or devalue a claim, and use these to their clients' advantage. The Berman Law Group is full of attorneys that are dedicated to their clients and their community. They continue to grow, in order to provide legal counsel for Jacksonville, Florida, as well as, cities located throughout the entire state. The Berman Law Firm is there for the clients, whether they be in Orlando, Tampa, Miami, or anywhere in between.
To get in contact with the Law Offices of Berman and Berman they can be contacted at 1-(877) 529-8995 or by visiting their website found at http://personalinjurylawyersorlandofl.com. They are available 24 hours a day via email, phone, or live chat on their website. For help on any type of injury lawsuit in Florida, contact the Berman Law Group today.