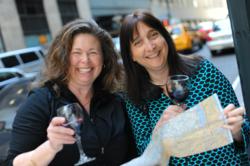 (PRWEB) May 30, 2013
The Getaway Mavens distinguish themselves from the travel-writing pack by highlighting unsung small towns in addition to providing unusual ways to experience large cities and better-known locations. The typical Getaway Mavens traveler is drawn to the curious and extraordinary with a bit of luxury at day's end. She appreciates real, slow meals with ingredients that come from local farms cooked by inventive chefs. He looks for exclusive, not snooty, unique, not cookie-cutter, and most of all, bristles at the thought of being one in a crowd of tourists. She's a world traveler, but sometimes, would like to forgo the rush to the airport and enjoy a scenic drive alone or with her…..honey….girlfriends…best friend (pick one) and get somewhere incredible in a couple of hours.
Organized by State, most GetawayMavens trips are a short drive from Boston, New York, Philadelphia or Washington, DC. Each photo-rich Getaway reads as a complete escape, providing entertaining and eclectic ideas for a "turnkey" experience. This includes unbiased recommendations about the most compelling spots to explore, the most exceptional experiences, one-of-a-kind shopping, foodie-approved dining and singular luxury lodging.
Turn to GetawayMavens.com for best road trips and great escapes, gear and hotel reviews. Look for expert travel tips on destinations in Connecticut, Maine, Maryland, Massachusetts, New Hampshire, New Jersey, New York, Pennsylvania, Rhode Island, and Vermont. Visit http://www.getawaymavens.com.
Who are the Getaway Mavens?
Malerie Yolen-Cohen is the Author of cross-country travel guide, Stay On Route 6; Your Guide to All 3562 Miles of Transcontinental Route 6 (Amazon). She contributes frequently to Newsday and is a Travel Blogger for The Huffington Post with credits in National Geographic Traveler, Ladies Home Journal, Sierra Magazine, Porthole, Paddler, Westchester Magazine, Westchester Weddings, Offshore Magazine, New England Boating and dozens of other publications.
Sandra Foyt is the founding editor of Albany Kid, a guide to enriching family travel, and a contributor to Being Latino. A former education advocate and enrichment coach, she lived in Buenos Aires, Puerto Rico, the Virgin Islands, Washington, D.C., New York City, and Southern California before settling in Northeast New York with two kids, an outdoorsy husband, and a well-indulged Chocolate Lab. Nowadays, she stars in her own version of "Where's Waldo?" on serendipitous trips in the US, Caribbean, and wherever adventure beckons.