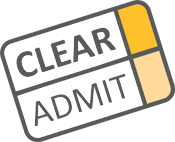 Philadelphia, PA (PRWEB) May 29, 2013
Clear Admit, expert in the MBA admissions space for over ten years, is pleased to announce the winners of its annual Best of Blogging Competition. In 2004, Clear Admit began identifying especially informative and engaging MBA applicant and student bloggers and included them in the company's weekly blog post, Fridays From the Frontline (FFF). Each spring the Clear Admit staff nominates a select group of FFF contributors for the Best of Blogging Competition. This year blog readers could vote for their favorites via an online survey or Twitter, which were tallied in tandem with returned ballots by nominated bloggers and the votes of the Clear Admit staff. This year's nominees were students and applicants alike, with a wide range of backgrounds and interests, and the winners of the competition reflect that diversity.
Cheetarah, who took the top prize, is currently a first year student at the University of Chicago Booth Business School, and has provided her readers with insights into the business school application process as well as the experience of first year life in Chicago. In second place, MBA Over 30 was an applicant blogger working with a slightly less traditional profile who ultimately received acceptances from a number of top tier programs before deciding to become a member of Wharton's Class of 2015. And in third place was Julianne, a second year student at Carnegie Mellon's Tepper School of Business and previous finalist in the 2011-2012 Best of Blogging competition, who candidly shared her classroom and recruiting experiences with her readers. The top prize for first place was a $300 Amazon.com gift certificate, with second and third place finalists receiving $100 and $50 Amazon.com gift certificates, respectively.
The FFF community is a vibrant group of MBA hopefuls and current students and the Best of Blogging competition celebrates that vibrancy. Clear Admit congratulates all nominees and especially recognizes the contributions of this year's winners.
***
Clear Admit is an authority on the business school admissions process and a leading publisher of MBA admissions guides. Founded by Wharton MBA graduates with extensive admissions experience, the firm has been featured in dozens of publications including Bloomberg BusinessWeek, The Wall Street Journal and The Economist. Clear Admit also provides admissions consulting services to business school applicants using a highly personalized methodology that combines the perspectives of MBA admissions officers, expert editors and MBA students to help maximize prospective applicants' chances for acceptance at top schools.