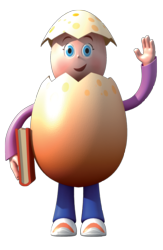 Online reading programs provide a range of advantages over traditional teaching methods
Dallas, TX (PRWEB) May 29, 2013
Learning to read with an online reading program provides a range of advantages over traditional teaching methods, including highly motivational game-like lessons and a dedicated one-on-one learning environment where children learn at their own pace. Reading Eggs, the purveyor of a popular online reading program for children aged 3 to 13, has recently published an article highlighting the benefits of learning to read online.
The new article outlines how online programs like Reading Eggs utilize the inherently motivational qualities of online learning – highly engaging visuals, animated characters, catchy music and sing-a-longs – to enhance learning and keep children motivated.
The one-on-one learning environment of online reading programs is also highlighted as one of their key benefits when compared to traditional learning methods. With Reading Eggs, children are able to progress through online lessons at a rate that suits their level of ability, and they are also able to repeat lessons in order to overcome any difficulties.
Tantamount to the effectiveness of online reading programs is the fact that their content and structure is typically informed by solid educational research and the teaching insights of highly experienced educators. Reading Eggs, which was created by a team of elementary educators with over 25 years teaching experience, is designed to provide young children with a progressive sequence of lessons and activities that target core literacy skills, specifically those highlighted by the National Reading Panel (2000) as the five most important areas of reading instruction: phonemic awareness, phonics, fluency, vocabulary, and text comprehension.
For parents, an additional benefit of online reading programs is that they typically include a vehicle for tracking their child's progress. Reading Eggs provides parents with an online dashboard detailing their child's reading progression and the learning milestones they've achieved.
More info at: http://readingeggs.com.au/articles/benefits-of-using-a-program-for-reading
About Reading Eggs
Developed by educators with over 25 years of experience, Reading Eggs online lessons instruct children in the five areas crucial to literacy development – phonemic awareness, phonics, vocabulary, fluency and comprehension. Reading Eggs focuses on a core reading curriculum of skills and strategies essential for sustained reading success and is suitable for children aged 3 through 13. Since launching in the United States and Canada in 2011, Reading Eggs has signed on more than 500,000 subscribers and presented more than 15 million lessons in North America. The program has now been purchased in over 169 countries.