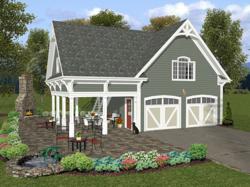 No two families have the same needs or circumstances.
Hillsboro, MO (PRWEB) May 30, 2013
Signs of an improving economy are driving more families to consider new ideas for expanded space on current homes. Recognizing this trend, online retailer TheGaragePlanShop.com announces the launch of a unique custom garage design service. For a limited time, customers can save 10% on their custom garage design and the possibility to receive a $1,000 credit toward the cost of their design.
"The garage isn't just a place to shelter your car," says TheGaragePlanShop.com owner Curtis Cadenhead. "People are coming up with incredibly innovative ways to make use of garage space. We've seen plans that add livable space over a detached garage, plans that add workshop or storage space, and of course plans that add a simple garage to get cars out of the elements. But what's interesting is that no two families have the same needs or circumstances."
Many stock garage plans are created for a "one size fits most" scenario, where a particular amount of development space is required in order to properly utilize the design. Through a new custom garage design offering, TheGaragePlanShop.com visitors can create a garage floor plan specifically suited to their available building space and budget.
"We want to make sure that every family looking to expand can make the best use of limited resources, and we're not just talking about budget," says Cadenhead. "Every detail can have a long lasting impact that stock plans just don't take into account. Custom design allow the incorporation of one-of-a-kind features and elements specific to the unique needs of each customer. Smart design will also help arrange material use so that the desired look is achieved without having to spend a fortune."
Custom garage designs from TheGaragePlanShop.com are developed as a cooperative effort between the customer and an experienced designer. To begin the process, site visitors will complete a request form for a free quote. Customer participation in the process is crucial, and frequent interaction with the designer may be needed to produce the best possible plan.
Custom garage plan services from TheGaragePlanShop.com stand apart from competing services in a few ways. Most "custom garage plans" offered online fall under two varieties: slightly modified stock plans, and garage plans that were previously custom designed for another homeowner. The custom garage design service from The Garage Plan Shop, LLC, allows the customer to direct the development of the floor plan.
The Garage Plan Shop is marking the release of this new custom drawn garage design service with two special offers. Visitors completing a request form and moving forward with their order by 12:00 noon CST on August 1, 2013, will receive 10% off the quoted price on their custom design order. Also, anyone that completes the custom design form will be entered into a drawing for a $1,000 credit toward their order. If the order has already been finished and the customer's account paid in full, a reimbursement of up to $1,000 will be issued instead. The drawing will be held on the afternoon of August 1, 2013. For full details, visit thegarageplanshop.com.
About The Garage Plan Shop, LLC: Curtis Cadenhead has over two decades of experience in home floor plan designs. Through his websites http://www.thehouseplanshop.com/ and http://www.thegarageplanshop.com, Cadenhead offers a wide variety of stock house plans and garage plans in almost every available style. At thegarageplanshop.com, visitors will find garage plans from top designers, garage apartment plans for growing families or rental income, garage workshop plans for the do-it-yourself homeowner, and multitude of other designs. For more information, contact The Garage Plan Shop at customerservice(at)thegarageplanshop(dot)com.