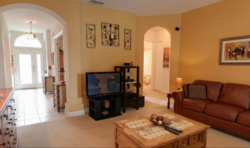 Really liked being able to make a call to someone friendly that helped us with dinner reservations. Harry Shelhouse
Orlando, Florida (PRWEB) May 29, 2013
"More people every day are awakening to the fact that a luxury vacation home rental is a far better bet than a hotel room," Van de Laer said. "Now, with our new concierge desk, reliable advice from our Vacation Specialist on the best beaches, restaurants, nightlife and just about anything else you might need is always at the tip of the fingers. Find the hottest night club or the closest place to catch a fish. Your Vacation Specialist will be your personal local expert."
Vacation homes are available at rates competitive with average hotel room prices in the Orlando market, making them a money-saving proposition, especially for larger families.
"Florida vacation homes are far more affordable than most people would think," Van de Laer said. "With the extra niceties that come with a home, plus just the extra space to spread out, a Disney World vacation home can really make the difference in the quality of any group's vacation."
Often Orlando vacation homes feature such amenities as a Jacuzzi, game room and a private pool, in addition to full kitchen and laundry facilities. Many families and other groups enjoy the option to save money or time by preparing breakfast and some other meals "at home."
"Accommodations are one of the most important and expensive aspects of your vacation," said Van de Laer. "That's why our website features a virtual catalog of homes the vacation planner can check out ahead of time. Too many people book their Florida vacation with a hotel and find them expensive, of poor quality, or worse, both."
About A+ Vacation Homes:
A+ Vacation Homes offers a variety of three-to seven-bedroom Orlando luxury vacation home rentals, all of which are located between five and 15 minutes from the Disney parks. In business for more than seven years, the company specializes in matching the right home to customers' budgets, lifestyles and interests.