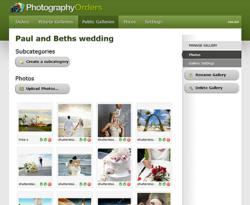 This release makes it easy for photographers to sell photo packages to their clients
(PRWEB) May 31, 2013
Photography Orders, a market leader in photography software for professional and amateur photographers, has released the next version to complement their existing software range. The best software on the market for photographers to work with, process and track orders, the latest release, Photography Orders Version 2.8 comes with many new features.
The latest release, Version 2.8 has the ability to sell packages – an alternative to standalone orders - providing discount advantages to clients. It also allows clients to upload photos by signing up to a secured internet site, order and purchase the prints online. Another big change with Version 2.8 is the addition of new payment gateways such as Multi Safe Pay and Authorize Net Direct Payment Integration.
With the added feature of Facebook integration, it makes sharing public photo galleries via social media easy. Digital downloads that are free are available instantly after ordering. Another new feature is the easy addition of statistics tracking code such as Google Analytics.
Photography Orders offers time-saving solutions to photographers who want to sell more photos with less effort and time. Essentially Photography Orders is a photo gallery website with a photography shopping cart. For photographers, photos can be easily uploaded from the camera or computer to a password secured site whilst clients can login and easily place an order. Shipping and tax are calculated during the order process which provides a simple and hassle-free online shopping experience for clients.
Photography Orders can be used as a link to an existing website or it can be customized as a standalone website. The software enables easy and quick-to-add client databases with editing and maintenance options readily available. Multiple galleries and sub-galleries can be created for each client. Galleries can either be password encrypted or publically accessed by anyone.
Different price lists can be set up for different types of photography – there is no limit to the sizes and prices. Digital downloads are delivered automatically and instantly after payment is made. Professional photographers can be assured of image protection through the use of watermarks as well as the built-in no right click feature that hinders clients from saving unpaid photos. As a developer of the software, Photography Orders offers first-hand support and easily accessible customer service.
For more information on Photography Orders please visit the website at http://www.photographyorders.com/.
About Photography Orders
Photography Orders is simple software used by hundreds of photographers to sell millions of photos. It is a photo gallery with a shopping cart for all types of photography including portrait, wedding, event and commercial. The software is easily installed on the licensed customer's web hosting account. A once-off fee enables full source code access. There are no monthly fees or commission involved. Photography Orders offers first-hand support with easily accessible customer service. With endless options, it is an easy way to present photographs to clients. The simple and easy to use administration interface allows licensed customers to upload photos and galleries, create price lists, create clients and accept orders online.