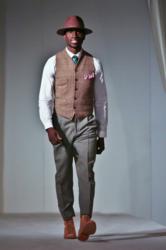 "Every child should have a chance to live a productive and nurturing life," says Tim Carter.
Houston, Texas (PRWEB) May 30, 2013
Former NFL Pro Tim Carter, Founder of Carter's Kids, hosts First Annual Charity Benefit Fundraiser.
Organization to announce Tim Carter's Enrichment Program for Foster Youth.
The First Annual "Carter's Kids Charity Benefit" hosted by former NFL pro athlete Tim Carter, will welcome VIPs, athletes, celebrities and influencers to the Mosaic Bar & Lounge on Saturday, June 22nd, 2013, from 5:00pm - 9:00pm.
The fundraiser will raise monies for the construction of a new multi-purpose enrichment facility for foster youth, designed to support the Carter's Kids Residential Treatment Center, by providing an enrichment program to include sports involvement, social skill development and character building.
Founded by retired professional NFL athlete Tim Carter, and his wife, LaShell, Carter's Kids was created as an extension of their love and compassion for children. The Carters have always dedicated themselves to serving the community and helping those who are less fortunate. Together, the Carters work to plant seeds in the lives of at-risk boys and girls to expose them to a positive life.
"We plan on helping our boys and girls get back on track while at the homes we provide for them, and seeing to it that they stay on track long after they leave our care," LaShell said.
Tim's mission spreads far beyond the children currently residing in the Carter's Kids foster homes. Tim is well aware of the life skills one acquires by participating in organized sports. He believes these skills play a crucial role in becoming productive members of society after the children leave the care of Carter's Kids.
The First Annual "Carter's Kids Charity Benefit" will be hosted at the Mosaic Bar and Lounge (5927 Almeda Road), Saturday, June 22nd, 2013, from 5:00pm – 9:00pm. VIP guests will be welcomed on the red carpet at 5:00pm, followed by guests and patrons at 6:00pm. Media personality Lyndsay Christian will serve as the event's mistress of ceremonies and celebrity guests will include NFL players Adrian Peterson, Eddie George, Chris Culliver, NBA players Tracy McGrady, Danny Green, Quincy Poindexter, Trey Tompkins, Mike James and more.
The evening will include red carpet arrivals, a cocktail hour, a silent auction and live entertainment provided by Celebrity DJ Eddie George, Heisman Trophy winner and Tennessee Titans star running back. Tickets are available for purchase now at http://carterskidscharitybenefit.eventbrite.com/.
About Carter's Kids
One in 155 children in Texas is living in foster care. Carter's Kids believes that children in foster care deserve a safe, nurturing home that will meet their needs and provide all of the necessary services to help them achieve permanent placement. Over the past four years, the Carter's Kids Residential Treatment Center (Carter's Kids) has committed time, love and patience to the programs that support and serve at-risk youth in the community. For the most vulnerable youth in foster care, Carter's Kids extends support, guidance and a nurturing environment in their time of dire need.
For more information on Carter's Kids Foundation, please visit http://www.carterskids.org.
Media Contact:
Theodore Palmer, Publicist
TPalmer(at)creativeedgepr(dot)com
646.575.2967