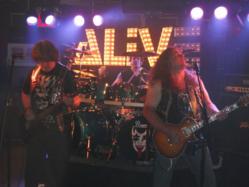 I feel confident that this year we will reach our goals and beyond
New York, NY (PRWEB) May 30, 2013
AMC, a rare congenital disorder, has no known cure and no prenatal diagnostic measures yet exist. Children who are born with AMC have multiple joint contractures and typically face a lifetime of corrective surgeries and rehabilitation. Generally, AMC only affects the extremities, but it can also affect the cranial structures, spine and central nervous system.
Valerie Pepe, Director of the AMC Music Festival, and herself a victim of this merciless disease, has had tremendous success in her work to help create awareness, education and assistance for those families and individuals affected, or suffering, from AMC. When she created the AMC Music Festival, she approached PENSRUS PENS' Henry Morgan, businessman and philanthropist, about getting involved in the journey to find a cure and create resources for these families and individuals.
Morgan, owner of PENSRUS PENS, New York's premier promotional products company, stepped up to the call, and over the years has made substantial donations of time, money and promotional products to help make the AMC Music Festival a success year after year.
Counting down the days, The AMC Music Festival 2013 will blast off at 3:00pm this Saturday June 1, 2013 at Killmeyer's Old Bavaria Inn on Staten Island. With PENSRUS PENS there to help make the festival a huge success, Pepe says, "I feel confident that this year we will reach our goals and beyond" She further expands, by saying of Morgan and his company, PENSRUS PENS, "The generous donations of imprinted tote bags, Original Koozie can Koolers, festival logo imprinted pens, and more will leave everyone feeling like they are getting, and giving for, so much more than music. I think the goal of at least $10,000 in funding for the AMCIS and the Shriner's Hospitals for Children in Philadelphia will be a snap."
Tickets to the AMC Music Festival 2013 are available online, or at the gate, and are going for $25 a pop. Kids get in for free and All will enjoy sounds from killer local talent, the likes of Scottish Widows, The Kitchen, Joyous Noise, Staten Island Rockers for Relief, No More Tears, Daphney and the Sock Monkeys, Atomic Krush, and Robert Mira.
About PENSRUS PENS
Founded online in 2001 with over 50 years of industry experience, PENSRUS PENS, an accredited member of the Better Business Bureau, has helped thousands of companies each year to increase brand awareness through their high quality products. PENSRUS is a leading distributor of specialty advertising and promotional products and offers a wide array of personalized products including customized pens, pencils, sticky notes, and more.
About the AMC Music Festival
The AMC Music Festival is an annual event that takes place in Staten Island, NY to raise awareness for Arthrogryposis Multiplex Congenita (AMC), an exceedingly rare disease, and to increase funding and support for families struggling with AMC. The festival started in 2011.