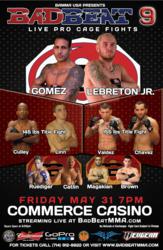 Two Championship Title Fights, a retirement fight, and an outstanding Main Event are on tap for 'Badbeat 9 presented by Budweiser'
Santa Ana, CA (PRWEB) May 29, 2013
Main Event: Mikey Gomez vs. Ronald Lebreton Jr.
When Ronald Lebreton Jr.'s opponent, Keith Berry, removed himself just three weeks from their scheduled Main Event bout for 'Badbeat 9', Berry's teammate, Mikey Gomez willingly stepped in. When asked why he took the fight on short notice, Gomez answered, "him being my teammate, he (Berry) got a fight somewhere else, you know, I have to have his back, he would 've had my back and BAMMA USA is a great event." When asked about his opponent, Gomez added, "at the end of the day it's a fist fight and I'm ready for all areas. He better be ready because I took it on short notice because I stay ready, so I don't have to get ready. I'll be in great shape by then." Lebreton Jr. replied by saying, "I'm training at 'Sparta MMA' and these guys are tough, they never stop coming at you. And that's one of the things that I've learned is that you have to push the pace, and that's exactly what I plan on doing every second. I've been working so hard on everything that this is a new Ronald. I haven't felt this great, ever. I can't wait to show it. I can't wait to prove it." The Main Event will definitely show who is ready to take the next step towards a BAMMA USA Championship Title.
Co-Main Event: Featherweight Championship Title Fight, Chris Culley vs. Justin Linn
In his post-fight interview at 'Badbeat 8', Chris 'The Urban Legend" Culley (16-10, 3-0 BBMMA) said "I took it tonight. I beat the best fighter in our division, so that makes me the best 145 fighter in this division. I want my belt. I earned it. I finished three of the best (145 pound) fighters in Southern California." Badbeat MMA officials agreed and awarded Culley the Badbeat MMA Featherweight Championship Title. Chris Culley's first title defense comes against undefeated Justin 'The Mortal Sinn' Linn (3-0) who had this to say about the champion, "I see Chris Culley being a mediocre striker. I don't see him being anything like Mark Hominick or Sam Stout. Guys that I have previously sparred with. So I don't see him being a big threat." Culley replied by saying that he "has forgotten more about striking than he (Linn) has learned. His (Linn's) whole career, amateur and pro doesn't add up to my smoker fights as a kid. I plan on paying his bragging rights. I'm going to be his huckleberry." Both fighters ride a three fight win streak into this fight, but only one will keep their streak alive and more importantly, walk away with the Badbeat MMA Featherweight Championship Belt.
Lightweight Championship Title Fight: Jorge Valdez vs. Ernest Chavez
The first ever Badbeat MMA Championship Title will be contested in the (155 pound) Lightweight Division between Badbeat MMA veterans Jorge 'The Envy' Valdez (6-2, 2-1 BBMMA) and Ernest 'EJ" Chavez (6-0, 1-0 BBMMA) at 'Badbeat 9 presented by Budweiser'. When asked about the fight, Chavez said, "I feel like they (Badbeat MMA) went out of their way to get a certain level of fighter and being the best at that division says a lot." Valdez has high expectations for the fight by exclaiming, "My fans can expect my hand up in the air with the belt around my waist." At fight's end, one of these two fighters will be the inaugural Badbeat MMA Lightweight Champion.
Retirement Fight: Gabe Ruediger vs. Scott Catlin
On the last day of May 2013, both of these fighters will step into the Badbeat MMA cage for the last time as professional MMA combatants. The long awaited rematch between former WEC Champion and UFC veteran, Gabe 'Godzilla' Ruediger (17-8), and longtime journeyman, Scott 'K.O.' Catlin (8-7) is one of the most anticipated in the promotion's history. Last year, Catlin lived up to his nickname by beating Ruediger by TKO at 'Badbeat 5'. Some observers chalked up Catlin's upset victory to nothing more than 'puncher's luck'. When asked about the rematch, Catlin replied, "I don't have anything to prove, so why fight him again? Basically he annoyed me into a rematch. Now he's talking trash, he's calling me names on the Internet. This is the first time that the guy with skills is meeting the guy that kills. I don't like the guy! (Ruediger) You are messing with the wrong person." Ruediger's outlook for his final fight is one of tranquil confidence, "as far as this being the end of my career, in a lot of ways there is a sense of calm. There is not as much nerves or as much push. I know that I've put everything I have into this one moment. But as long as I put it into this one moment, win or lose, make that win, I'll be content with myself. In this one moment, I can focus on this moment and not have to worry about the afterwards, I can just focus on the moment and in that there is a sense of calm." About facing Catlin, Ruediger remarked, "I hope Scott's ready. Now it's time to redeem myself and that's all I plan to do." Will Catlin prove that the first time around his victory was skill and not luck or will Ruediger avenge that loss and end his career on a high note? One thing is for assured, one of these two will retire victorious.
Lightweight Featured Bout: Eric Brown vs. Sevak Magakian
Badbeat MMA veteran Eric Brown (3-3, 3-1 BBMMA) was on a three-fight win streak when he suffered a split decision loss to Badbeat MMA Lightweight Championship Title contender Jorge Valdez at 'Badbeat 7'. Former cast member of 'The Ultimate Fighter: Season 12', Sevak Magakian (12-4, 0-0-1 BBMMA) was on a five-fight win streak when he fought Nick Piedmont to a draw at 'Badbeat 7'. Since then Brown has been training for another opportunity to showcase his growing skills, while Magakian unsuccessfully fought in another promotion. Now, both fighters approach this fight as the start of a new win streak and the potential to elevate themselves into title contention as well.
'Be First' Knockout of the Night and 'Be First' Submission of the Night
All fighters are eligible for the knockout and submission of the night awards for 'Badbeat 9' that are provided courtesy of the Be First Clothing Company.
Badbeat 9
Presented by Budweiser
Gomez vs. Lebreton Jr.
When: Friday, May 31, 2013
Doors open at 6:00 p.m.
First fight at 7:00 p.m.
Where: Commerce Casino
6131 Telegraph Road
Commerce, CA 90040
Main Card*
Main Event- 185 lbs: Mikey Gomez (13-9) vs. Ronald LeBreton Jr. (8-7)
Co-Main Event- 145 lbs: Featherweight Championship Title Fight
(Champion) Chris Culley (16-10) vs. Justin Linn (3-0)
155 lbs: Lightweight Championship Title Fight
Jorge Valdez (6-2) vs. Ernest Chavez (6-0)
160 lbs: Gabe Ruediger (17-8) vs. Scott Catlin (8-7)
155 lbs: Eric Brown (3-3) vs. Sevak Magakian (12-4-1)
Preliminary Card*
Featured Fight-135 lbs: Bobby Sanchez (13-2) vs. Terrion Ware (5-2)
145 lbs: Nick Jordan (1-1) vs. Luis Iniguez (2-4-1)
155 lbs: Chris Costello (1-2) vs. Matt Bahngte (2-2)
145 lbs: Tommy Gavin (0-0) vs. Reshan Sabaratnam (0-1)
*=All bouts subject to change
Ticket Information
Ticket prices range from $60 to $120 per person. Online ticket orders available through TicketForce or visiting http://www.BammaUSA.com. VIP Tickets ($130 or $150 per person) or VIP Tables are available by calling 714.912.8822.
In response to its growing national and international fan base, BAMMA USA will broadcast Badbeat 8 live on the internet via Livestream's upgraded platform New Livestream. Internet viewers will be asked to join New Livestream directly or sign in through their Facebook account to enjoy the free telecast**.
**=Blackout restrictions will apply locally
Badbeat MMA
Badbeat MMA is a mixed martial arts promotional organization specializing in creating live entertainment, featuring professional combatants. It is southern California's leading mixed martial arts organization, providing the area with consistent events and opportunities to professional athletes.
Currently stationed out of southern California, Badbeat MMA promotes the area's top local talent from mixed martial arts gyms such as CSW, Knuckleheadz Boxing & MMA, Elite MMA, Kings MMA, PKG, Joker's MMA/Lightning MMA, The Bodyshop, Reign Training Center, Total MMA Studios, Ace Jiu-Jitsu, Cobra Kai, Gracie Morumbi, Cesar Gracie Jiu-Jitsu Academy, The Arena, Subfighter MMA, as well as many others.
Past and current fighters who have worked with BAMMA USA founder Brett Roberts include: Mike 'Joker' Guymon, Vladimir 'The Janitor' Matyushenko, Joseph 'Leonidas' Henle, Georgi Karakhanyan, Gabe 'Godzilla' Ruediger, Jason Lambert, Chad 'The Savage' George, Albert Rios, 'The Real Deal' Chris Beal, Jared 'The Jackhammer' Papazian, and more.
While the promotion prides itself on the motto: "Keep Moving Forward," the ultimate passion for Badbeat MMA is to create an environment in which fighters are truly valued.
Web site: http://www.BadbeatMMA.com
Facebook: http://www.facebook.com/bammausa
Twitter: @BadbeatMMA and @BAMMAUSA