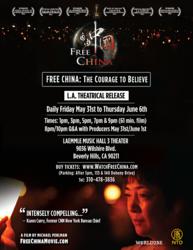 "I hope this film changes our world." Margaret Chew Barringer, Founder of American Insight
Beverly Hills, California (PRWEB) May 30, 2013
The spotlight on China has never been brighter. After a tumultuous 2012 when it cast out a political star and jailed his wife (The Telegraph, April 24, 2012, http://tinyurl.com/7fgxwnt ), this year, China ushered in a new president, launched a wave of cyberattacks against US institutions (The Washington Post, May 27, 2013, http://tinyurl.com/q7perdg ), asserted territorial claims against US allies Japan and the Philippines (Inquirer Global Nation, May 23, 2013, http://tinyurl.com/qj5r4gv ), and tried to broker a deal with the nuke-brandishing North Korea ( CNN, May 27, 2013, http://tinyurl.com/pvpvzyt ). With the upcoming US-China summit aimed at addressing strained ties and growing disputes, the world's eye will be on China again.
In this limelight, dimmed are traditional issues of human rights which used to define our perception of China. Human rights abuse is still a reality millions of Chinese have to live with. Although holding "harmonious society" up as a favorite political mantra, the country is beset with hundreds of thousands protests each year. Prisoners at China's Ma Sanjia labor camp stashed secret S.O.S. notes in US-bound Kmart toys. Organs of prisoners of conscience are involuntarily harvested to fuel the extremely profitable "medical tourism." (The Epoch Times, Feb. 15, 2012, http://tinyurl.com/nmu34nn ) Internet activists, lawyers, and underground church believers are routinely rounded up, beaten, and thrown into China's Gulag.
Against this backdrop, the award-winning "Free China: the Courage to Believe" has demonstrated enormous courage in and of itself to mine, explore, and reproduce human interest stories from a not so popular angle : human rights violation. Not only does it reveal the brutality, it also proffers hope: When a young woman who is also a mother, a Beijing Univ grad, and a former Communist Party member decided not to languish in prison for her spiritual belief but emerge to tell her story, when a Chinese-American business man decided to embark on a trip to broadcast censored information in China, their journeys intertwined through a common conviction. They are but two representatives of the average Chinese who demand freedom, decency, and integrity against all odds. Although the regime wants to impose a pact which allows people to get rich in exchange for spiritual and political freedom, the reality -- in New Yorker's China correspondent Evans Osnos' words – is that "People are looking for things that are more than just about their pocketbook." The documentary ties in many sensitive issues: unfair global trade practices, regime-led genocide, and Internet censorship and privacy. What stands out above all is the profound belief in one's right of freedom, as evident in the millions of ordinary Chinese who are not afraid to buck the system and chip away at it from all angles: social, spiritual and cultural.
Friday May 31st to Thursday June 6th, 2013 at Laemmle's Music Hall3, 9036 Wilshire Blvd, Beverly Hills, CA 90211. ph: 310-478-3836. http://www.freechinamovie.com/