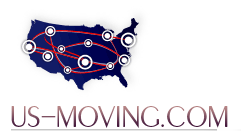 Using their packing tips can help avoid costly damage to expensive, difficult to replace items.
(PRWEB) May 31, 2013
US-Moving.com is trying to encourage customers to follow simple packing tips in order to reduce accidents during transport. Depending on the size of the home or office, the process of packing for a move can be a large undertaking. Underestimating the time it will take to pack possessions during a home move can be a critical and potentially costly mistake. US-Moving.com want to save customers the hassle that comes from lack of proper packing by sharing packing tips with their customers.
Every business that US-Moving works with has already passed credibility checks to ensure customers will not be caught off guard using unlicensed, uninsured or unreliable moving companies. Even with the high standard of professionalism US-Moving.com provides through their suggested moving companies, customers usually take responsibility for packing some items themselves. Sturdy, inexpensive items are recommended within the packing tips guideline as a good choice for home owners to pack. Fragile items such as chinaware, antiques and artwork are said to be best left to the professional moving companies. Moving companies have the necessary packing supplies to transport these types of items safety to the new location. They are also insured for damage, and have insurance in the event of breakage. Electronics and computer equipment are also included in the list of items best handled by the professionals.
Allowing enough time for sorting and packing can contribute greatly to a less stressful situation on move day. Packing tips pertaining to when to start and finish packing, how to label items, what types of packing supplies to use and much more are available on the
US-Moving site. They are committed to keeping customers informed and up to date on the most efficient ways to prepare for a relocation of a home or office. Using their packing tips can help avoid costly damage to expensive, difficult to replace items. It will also save time for the customer as they unpack and prepare to enjoy their new home.
http://www.US-Moving.com offers estimates for moving services to customers from a network of professional, pre-screened moving companies. They provide expert moving guides to help customers plan for a successful relocation of their home or office.