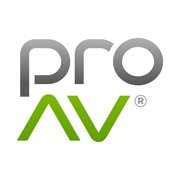 proAV is the premier AV integrator in Europe and we're extremely pleased to have the organisation as a SiliconCore Platinum Partner.
(PRWEB UK) 31 May 2013
proAV has been awarded Platinum Partner status by SiliconCore Technology (SCT), whose pioneering common-cathode technology is changing the face of the large format LED display system industry.
proAV's alliance with SCT represents a powerful strategic partnership as the industry's most dynamic professional AV systems integrator makes further moves into environments where increasingly novel large format displays and video wall systems are making the headlines. proAV's recent high profile projects include a 22 x 8 tile curved display wall for a global financial services organisation and a scheme for the fashion industry's most iconic brand, for whom proAV was commissioned to install a series of 9' arrays and a 22' video wall as part of its display solution within its new flagship store in London.
SCT's groundbreaking LED technology is perfectly placed to exploit the projected 60 per cent growth in the video wall market as Futuresource Consulting predict sales of some 380,000 units in 2013. Formed in 1997, the Californian intellectual property developer invented the patented common-cathode current driver architecture, which dramatically reduces the heat and power consumption of LED display screens.
Today, SCT's display technology is making waves in the AV world as its stunning, large format, bezel-less screens are becoming the must-have display solution for organisations who want to make an impact with life-like images that are not interrupted by the lines associated with traditional, multi-display technology.
"We're proud to have been recognised by SCT as a Platinum Partner," commented Mark Hazell, Sales Director at proAV. "The SCT product portfolio represents solutions that our more discerning clients, notably from retail and corporate sectors, will undoubtedly look to proAV to incorporate within their forthcoming AV projects. The low-power, SCT Orchid display is particularly exciting; with just a 1.9mm pitch and a resolution of 277,008 pixels per square meter, we're already identifying schemes where close proximity viewing and large format graphic presentations will create impact and interest."
SiliconCore's Platinum Partners are the premier integrators within the AV industry and have completed extensive factory-based training on product knowledge, system installation, commissioning, diagnostics and maintenance of SiliconCore products. Platinum Partners are also fully certified to board level repair of SiliconCore LED displays.
Steve Scorse, SiliconCore Vice President EMEA, commented: "proAV is the premier AV integrator in Europe and we're extremely pleased to have the organisation as a SiliconCore Platinum Partner. The professionalism, knowledge and passion of proAV matches the core values of SiliconCore and will help both companies deliver our Common-Cathode LED solutions to our customers with the same high performance standards."