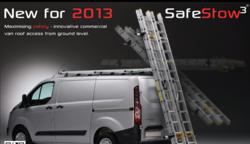 Many of our regular customers love the quality of Rhino Products and have been asking when this range would be available
Bolton, Lancashire (PRWEB) May 29, 2013
SafeStow 3 is the latest evolution of Rhino's current Safe Stow products manufactured and designed by the innovative van roof bars specialists.
It makes loading and unloading van ladders on to high roof vans faster, easier and even safer than before.
This brand new range includes single and twin versions which are available in 2.2m and 3.1m lengths. It includes a gas assisted lift, load stops and is fully adjustable to carry the vast majority of ladder types.
SafeStow 3 is built from highly robust aluminium and is secure and lockable making this one of the very best van ladder carriers currently available.
"Many of our regular customers love the quality of Rhino Products and have been asking when this range would be available" said Shaun Taylor, Sales Manager of the van roof bars retailer, Vanliners.
"We've been taking lots of pre-orders and are now glad to fulfil them. We expect the Safe Stow 3 to soon be a top seller for us and a welcome addition to our extensive range" added Shaun, Sales Manager for the van roof bars specialists.
Rhino Products are based in Flintshire, North Wales.
Formed in 1998 they soon became a market leader in the design and manufacture of roof racks for vans and other commercial vehicle related products
Safety is at the forefront of their designs and Rhino submit all their products to the highest level of independent European safety accreditations available.
Vanliners was established more than 15 years ago, enjoying steady growth and soon becoming the market leader in van lining.
"Not just satisfying but delighting our customers has been the main reason we have become so successful, so quickly" says Mr. Taylor, Sales Manager at Vanliners and supplier of roof racks for vans.
"If you need roof racks for vans then Vanliners have a huge range. These can be ordered from our website for you to fit yourself or you can visit our Bolton depot and we'll fit your van roof racks whilst you wait" said Shaun.
"Alternatively if you prefer we have mobile van fitters available who can fit your roof rack at your place of work" added Shaun.
"It is a common misconception that Vanliners only supply ply lining kits and this is something we are working hard to rectify. We sell and fit most things van related and the recent award of our N1 accreditation has seen a sales increase in other products" commented Mr Taylor.
"A lot of vehicle related modifications can no longer be carried out unless you have this accreditation and this law has been lead by safety concerns" said Shaun.
"If you do buy a roof rack for your van or are considering any alterations or modifications check the company you choose has N1 status as this may be a legal requirement dependent on the product or modification required" added Shaun.
These are my top recommendations if you are considering investing in a roof rack system:
1. Consult your handbook to check the maximum weight loading capacity of your van. Don't exceed this.
2. Evenly distribute your load weight and be careful nothing overhangs.
3. Narrow and heavy loads should be placed as close as possible to the leg supports.
4. Use suitable straps or tightening devices when loading your roof rack. Check before the beginning of your journey and each time you stop that your load is secure.
5. The handling of your van will change once you have a loaded roof rack. Be aware of winds and your speed especially when driving round bends. Braking distance may increase.
6. Remember the height of your vehicle will have changed. Take care when going under low bridges and make a note of your new total height and place it on your dashboard.
7. Clean your roof before fitting and clean and lubricate your roof rack for maximum longevity and performance.