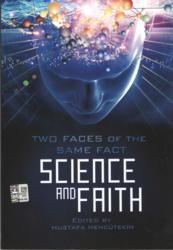 Science is the knowledge of matter and Faith is the understanding of the wisdom behind it
(PRWEB) May 30, 2013
Mustafa Mencutekin has compiled and edited a collection of short articles published in The Fountain Magazine providing cogent evidence as to how science and faith complement each other in portraying the beauty of existence.
In the contemporary pursuit to explain natural phenomena, the book encompasses many different topics within science ranging from the natural environment to the universe in light of modern physics to the biological science about life on earth. The book provides new insights to readers a notion of science and faith as a combined entity providing knowledge from the same origin.
This humble collection of articles infers that science and faith wal side by side on the path seeking to uncover the nature of human beings and the mysteries of creation. Any kind of knowledge, however scientific it may be, is doomed to err if it rejects the cooperation of faith. The situtation has been that human beings, from time to time, have denied religion in the name of science and denied science in the name of religion, arguing that the two present conflicting views from one another. The book has some answers to this debate.
About the Author: Mustafa Mencutekin is the Chair of Department of Animation Film of Fine Arts at Marmara University. He has written several articles in Turkish and English about the communicative and morphological aspect of movies. He has taught cinema in communication studies in the Distance Learning program at Alfred University, Istanbul, Turkey. He lives in Istanbul, Turkey.
Title: Science and Faith: Two Face of the Same Fact
Author: Mustafa Mencutekin
ISBN: 978-1-935295-23-5
Published By: Blue Dome Press
Distributed By: NBN – National Book Network
Publication Date: December 2012
Format: Paperback, 144 pages
Size: 8.5 x 9 inches
Price: $12.95
About the Publisher: Blue Dome Press is a NY-based publisher of Islamic tradition and spirituality, Islamic history and arts books. At Blue Dome Press, we take special pride and dedication in the production of high quality, authentic and reliable publications. We aim to contribute to the proliferation of peace and common understanding throughout the world. For more information, please contact Awais Chaudry at 535 Fifth Avenue, Ste.601, New York, NY 10017-8019 Telephone: 646-415-9331 x219. Email: a(at)chaudry(at)bluedomepress(dot)com