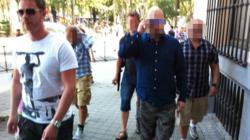 "It is a great misconception that a child abducted by a parent is a safe" child" -Martin Waage, ABP World Group
New York, New York (PRWEB) May 29, 2013
ABP World Group knows that some countries are seen as "Safe Havens" for child abductors – mainly because of the legal system, but also the fact that to recover a child from many of these countries has been close to impossible. This often combined with a too high risk for all the involved.
If ABP World Group finds the risk extremely high and that launching an operation will lead to personal danger or damages, our personnel will stand down. Instead ABP World Group is ready to start a negotiation process immediately and without any bureaucracy delay. This is most important because time is critical when it comes to any child abduction.
ABP World Group`s specialists in the new task force, have formed more than 12 years of experience from IPCA cases in mind. The operators in the task force are the best of the best- Team leaders from many different countries Special Forces units, and are trained to do whatever it takes, wherever it takes, whenever it takes. This means that recovery operations in countries like Japan, Philippines, Middle East and North Africa etc. will be done with a great aspect of safety and success.
ABP World Group will under these operations, use any necessary means and type of logistics solutions ,to be sure that no criminal child abductor should never again feel safe- or out of reach from our justice.
Linked article to ABP World Group`s latest child recovery from Japan: Norwegian Child EXTRACTED from Japan thanks to quick work by ABP World Group with assistance from The Japan Children's Rights Network.