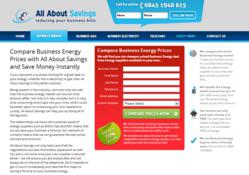 (PRWEB UK) 29 May 2013
All About Savings, the UK's leading Business Electricity Comparison website, has launched a new Business Electricity Suppliers database to help businesses compare Electricity suppliers, making it easy to do so by displaying them all in one place.
Jo Brookes, Marketing Manager at All About Savings, says, "There are many websites that list the different Business Electricity suppliers in the UK but none of them have gone into the level of detail that we have. For each supplier that is listed in our database, we have tried to list the key selling points that each supplier offers along with our own expert opinion."
As well as listing the 'Big Six' business Electricity suppliers in the United Kingdom, All About Savings has gone the extra mile and tried to include information on every Electricity supplier that offers business supply solutions so that users of their website can gain a complete overview of who can supply their business and subsequently make an informed decision on who should supply their business.
All About Savings has found that a large proportion of business owners in the UK have the preconception that the the "Big Six" energy suppliers offer the cheapest Electricity rates for businesses. All About Savings have reported that this simply isn't true because many of the smaller suppliers have lower operating costs so they can offer less expensive electricity deals to business owners.
Jo Brookes continues, "We have seen a sharp increase in the number of businesses turning to the smaller supplier's because of the savings they can achieve in their Electricity bills. And with no down turn in the customer service they receive from these smaller suppliers, it is a bit of a no brainer with the economy still very unstable every penny counts to business owners."
All About Savings has been helping companies in the UK to save money on their business electricity bills for over a year. If your business need to have a bill review simply email help[at]allaboutsavings[dot]co[dot]uk, call 0845 1948 625 or visit their website by clicking here.