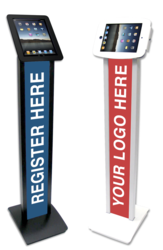 The BrandMe iPad floor stand has allowed us to have a technological presence where customers can engage and experience our newest product advances without having to come into one of our retail locations
(PRWEB) May 30, 2013
Maclocks, the world's leading brand of Apple security & display solutions and the maker of the world's best selling iPad lock, announces BrandMe for iPad, the ideal branded iPad floor stand to use in public spaces to increase brand awareness and gain public presence.
BrandMe is a high profile secured and modular iPad floor stand with a dedicated one/two sided panel area, which is easy to customize. It transforms the iPad into an iPad kiosk that is steady and stable for viewing, tapping and typing, and brandable based on customer's requirements. It also enables users to quickly switch between portrait and landscape orientation and select the preferable iPad enclosure based on their preferences, between a tamper-proof iPad executive enclosure to the Maclocks iPad "Space" lockable full metal jacket enclosure.
Cox Communications is the third-largest cable provider in the US and Maclocks' first customer to pre-launch the revolutionary BrandMe iPad floor stand. With more than 6 million residential and commercial customers Cox Communications Inc. is noted for its high-capacity, reliable broadband delivery network, and superior customer care. Cox continues to lead the market with an innovative interactive approach, using Maclocks' BrandMe branded iPad kiosk for engaging customers at large events, encouraging them to explore new product offerings.
"As competition is continuously growing, we needed a way to showcase Cox's technology and product advances to our customers outside of our retail locations. The solution we found was the BrandMe iPad floor stand by Maclocks. Using this stand allows customers to engage with our products at community events, festivals, athletic events, and anywhere else we have a presence," says Trevor Wood, Cox Communications Central Region Events & Sponsorship Manager. "For years, our presence at community events, festivals, and athletic events was a table, table cloth, and premium giveaways. Maclocks BrandMe iPad kiosk has allowed us to have a technological presence where customers can engage and experience our newest product advances without having to come into one of our retail locations. Customers love the hands-on experience and we love the chance to engage with our customers; creating a win-win for everyone."
The Maclocks BrandMe iPad floor stand (compatible with iPad generations 1, 2, 3 & 4) is available in white, black and silver for $499 at http://www.maclocks.com/imac-locks/the-brand-me-ipad-floor-stand-ipad-kiosk.html?SID=r9qckv76r3c0mr2nkkrdsrq562 . For more information about Maclocks, the world's bestselling Apple security and display solutions, visit the Maclocks website.
About Maclocks
Maclocks is a world leader and a premier designer and manufacturer of locking and display solutions for Apple's elegant iPad, MacBook air, MacBook Pro, Mac mini and iMac devices. Maclocks security and display solutions are the best of choice for over 30% of the Fortune 1000 companies across US and Europe. Maclocks owns a large number of patents in the field of hardware security and spends great resources on R&D and in quality control of its dedicated line of products. Maclocks' dedicated line of Apple products are sold to corporate accounts, retail and commercial companies, educational institutes, state and national government agencies, resellers and distributors worldwide. Learn more about Maclocks's entire range of ingenious products at http://www.maclocks.com, http://www.facebook.com/maclockscom and on Twitter, @maclocks.