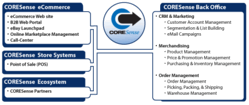 SoccerPro has grown approximately 30% a year since we started with CORESense.
Saratoga Springs. New York (PRWEB) May 30, 2013
CORESense (http://www.coresense.com), the leading provider of all-in-one, cloud-based retail management & ecommerce software solutions, today announced that SoccerPro.com, one of the nation's largest and fastest growing multi-channel providers of soccer shoes, balls, jerseys and equipment, was selected a 2013 Retail Touch Points Channel Innovation Award winner. 2013 Award winners have demonstrated achievements in some or all of the following areas:

Sales gains, particularly within emerging channels
Meeting consumer demands with convenient cross-channel shopping opportunities
Cross-channel marketing
Customer recognition, including social media feedback
Technology innovations
SoccerPro.com operates a retail store, call center and market leading ecommerce site and makes it their "goal" to provide their customers with the service and products they need to enjoy the game of soccer. The multi-channel retailer implemented CORESense in 2008 to more effectively manage its growing ecommerce operation. After a comprehensive review of multi-channel retailing solutions, SoccerPro was confident that CORESense's cloud-based platform provided the optimal combination of features, functionality and total cost of ownership.
"SoccerPro has grown approximately 30% a year since we started with CORESense. They provided us with an all-in-one application that allows our warehouse and order processing teams to efficiently manage our constantly growing business during peak times with almost no additional staffing required, " said Tony Marrero, Director. "We have doubled our business since 2011 and have hired only one additional shipping person to accommodate the increased order volume."
"We applaud Tony and his staff on winning this prestigious award," said Chris Martin, President of CORESense. "Our mission is to provide multichannel retailers with an affordable end-to-end solution that helps them compete and win in today's demanding retail marketplace. It is gratifying to know that we are an integral part of their success and future plans. Our customer's success is validation that our team is achieving its mission."
CORESense is the only cloud-based ecommerce management software solution that brings together ecommerce website, merchandising, order management & fulfillment, and CRM & marketing into a single, centrally managed solution and is rapidly becoming the preferred ecommerce platform for internet and brick-and-mortar retailers.
For more information about CORESense's offerings, please visit http://www.coresense.com, email us at sales(at)coresense(dot)com or call toll free at (866) 229-2804.
About CORESense, Ltd.
CORESense, Ltd. is a leading provider of all-in-one cloud-based ecommerce and retail software solutions for ecommerce and brick and mortar retailers and brand manufacturers. Successful retailers across multiple specialty retail markets including wine, footwear and accessories, sporting goods, fashion and apparel, books, electronics and others are leveraging CORESense's products to streamline operations, connect with customers and grow sales across ecommerce and retail store channels. The CORESense solution wraps point of sale, store operations, multi-channel ecommerce, merchandising, order management, and customer relationship management software around a centralized product, customer and inventory database providing retailers with a real-time view of their customers and their business.
CORESense is part of the Friedman Operating Group and has offices nationally and is headquartered in historic Saratoga Springs, N.Y.