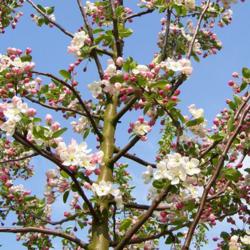 It's customers' last chance to invest in their wide selection of late spring flowerers before the season concludes.
(PRWEB UK) 30 May 2013
English Woodlands, an East-Sussex based supplier of trees, plants, and planting accessories, are currently promoting their stock of spring flowering specimens. Following a promotional 10% discount throughout the month of May, it's the last chance to invest in their wide selection of late spring flowerers before the season concludes.
Starting their current selection off is a range of deciduous Azaleas, among which are 'Northern Hi Lights', 'Cannon's Double' and 'Mount St Helens'. With deep cream, apricot and salmon flowers between them, they come highly recommended for their potential to provide visual variety in any garden. Each also offers attractive autumn foliage, and proves highly hardy for the winter months.
Among the collection this year are Rhododendrons, including Roseum Elegans and Mrs Lowinsky. Roseum Elegans features deep lavender flowers, while the latter boasts large white displays faded from an early pink, with large, central orange blotches to appear during June. Due to an extremely varied annual selection of different species, English Woodlands are not currently listing these variants online. Interested visitors can e-mail, or call the sales department on 01435 862992 to find out more information about this year's stock, or set up an order.
For visitors seeking more year round interest, English Woodlands are offering a number of crab apple trees which are currently flowering. Malus Evereste produces small white flowers during the spring, though makes for an excellent winter investment with long-lasting red flushed orange fruits arriving during the autumn. Malus 'Golden Hornet' offers large white flowers in late spring, followed by small yellow apples in the autumn, popular among local wildlife and blackbirds.
These plants and many more like them, from mature shrubs to pleached trees, can be found through English Woodland's online store, at ewburrownursery.co.uk. For more information potential customers are welcome to e-mail, call, or can find plenty of supplementary information on the company blog, at blog.ewburrownursery.co.uk, updated routinely with posts on the above species and more.
English Woodlands are one of the nation's leading tree suppliers, providing trees, plants, and planting accessories to people and professionals around the country since 1919. With the season for spring flowerers currently entering its peak, there's no better time to contact them and set up an order.