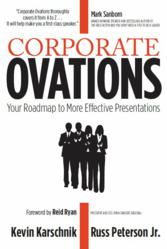 Corporate Ovations thoroughly covers it from A to Z if you want to learn to give an effective presentation. It will help make you a first-class speaker. - Mark Sanborn, Award winning speaker and bestselling author of The Fred Factor
Round Rock, Texas (PRWEB) May 30, 2013
Russ Peterson Jr. and Kevin Karschnik introduce us to the three presentation killers and the one truth in public speaking. Their newest book, Corporate Ovations documents powerful tools like CABA, MAS, and 9-Minute Presentations to help captivate and inspire our audiences. Peterson and Karschnik grew up in Round Rock, TX and have known each other for more than 30 years and have a common passion for developing leaders. Their current company, iSpeak, Inc., provides communication and presentation skills training around the world. Their roadmap to better presentations was developed through research and their experience coaching thousands of students around the globe.
Reid Ryan, President of the Houston Astros Baseball Club, has written the foreword for the book. As someone who speaks to large audiences regularly, Ryan has confirmed that Peterson and Karschnik have documented the formula for success in public speaking. Ryan said, "After reading Corporate Ovations you will approach every speech, presentation, or conversation differently; whether you are speaking to a large audience, presenting to the board of directors, or even sharing stories with your buddies at a baseball game."
Mark Sanborn, Award winning speaker and bestselling author of The Fred Factor and You Don't Need a Title to be a Leader reviewed the book and said, "Corporate Ovations thoroughly covers it from A to Z if you want to learn to give an effective presentation. You'll find lots of great ideas to make you a more powerful communicator. It will teach you to put the audience first and that will help make you a first-class speaker."
About the Authors
Both authors grew up in Round Rock, Texas, and have known each other since 1979. Kevin Karschnik is an author, speaker, and corporate trainer. He is co-founder of iSpeak, Inc. with Russ Peterson Jr., a company focused on helping people inform, inspire, implement, and improve. He uses humor and his diverse business knowledge to present to audiences ranging from Corporate Executives to Sales Representatives to Leadership Teams. Kevin has presented to thousands of individuals across the United States and around the world, including companies such as CenterPoint Energy, The Houston Astros, AT&T, Dell, and The Ronald McDonald House. Kevin graduated from The University of North Texas and he lives in Round Rock, Texas, with his wife, two children, and their dog, Lily.
Russ Peterson Jr. co-founded FutureTech Training in 1991. After growing this business to three locations in Texas, he sold the company to an international competitor. After excelling in sales and business development with Fortune 500 companies like GTE and CSC, Russ co-founded iSpeak, Inc. (http://www.iSpeak.com) with Kevin Karschnik. As a trainer, professional speaker, and corporate representative, Russ has delivered keynotes and seminars for thousands of individuals around the world. His international audiences have been in places like Amsterdam, Ireland, Italy, Romania, Singapore, and Malaysia. Russ is also the author of Cut the C.R.A.P. and Make the Sale (DC Press, 2003). He lives in Round Rock, Texas, with his wife, two children, and their black lab.
About Corporate Ovations: Your Roadmap to More Effective Presentations
$24.95 – Available at http://www.Amazon.com and http://www.iSpeak.com/Store
288 pages, Discovery Tree Press, May, 2013; ISBN–13: 978-1-940039-00-8
###############
iSpeak, Corporate Ovations are all trademarks of iSpeak, Inc. in the United States and/or other countries. The names of actual companies and products mentioned herein may be the trademarks of their respective owners.
For more information, press only: Tracy Singhaus, 512-423-3041, tsinghaus(at)ispeak(dot)com
For more information on the Corporate Ovations book or training workshops:
http://www.CorporateOvations.com
Media Press Kit for Corporate Ovations can be downloaded here:
(author photos, book graphics, fact sheet, talking points, etc.)
http://CorporateOvations.com/#!/speaking