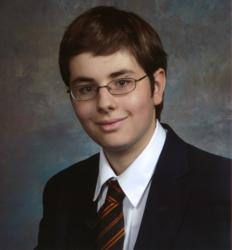 I am pleased with how well Polarity is being received by my fellow gamers!
Niwot, Colorado (PRWEB) May 30, 2013
Jonah Rubin, an experienced 14 year old software developer, in collaboration with makegameswith.us has released his second iOS game entitled Polarity. Polarity is a puzzle game where Pol the Robot is stranded in space and running out of batteries. He needs help to get back to his charger. The mission: using magnets floating around space push and pull Pol around the grid towards his charger while avoiding black holes.
Rubin conceptualized and began development of the Polarity game while participating in an internship with makegameswith.us, a Palo Alto, CA based incubator of iOS platform games. Jeremy Rossmann, co-founder of makegameswith.us remarked, "We are delighted with Polarity, Jonah's second iOS game. Polarity excellently illustrates Jonah's diversity as a game developer; Polarity is an engaging puzzle game whereas CheeseMiners, his first game, is a side-scroller, shoot-em-up action game. Both are a hit!"
Remarked Rubin, "Polarity presented some interesting challenges from a user-interface design perspective. From the player's perspective, the are only a few rules, but under the surface, the game is far more complex. It takes hard work to make things polished and fun!"
In addition to Polarity, Rubin's software portfolio includes:

Cheese Miners -- an iOS application set on a futuristic version of Earth's moon, where it is discovered that NASA lied and the moon is in fact, at least partly, made out of cheese. The mission: collect the cheese from the surface of the moon while avoiding moon craters, missiles, and dangerous moon mice monsters.
The Decider -- a simple Android application that assists with choosing from among a number of alternatives.
The Confoundry (http://www.theconfoundry.com) -- a social networking website for puzzle enthusiasts.
AJPclinical (http://www.AJPclinical.com) -- a website optimized for mobile devices developed under contract with the American Journal of Psychiatry.
About Jonah Rubin
Jonah Rubin is a 14 year old software developer hailing from Niwot, Colorado. He has been developing software since he was nine years old and is proficient in a wide range of software technologies. Jonah schooled at home for three years and is now boarding at Ridley College in St. Catharines, Ontario.
About MakeGamesWithUS
MakeGamesWithUs is a learning resource and iOS game publisher for individuals and small teams. Anyone with a mac and a background in object oriented programming can learn how to make iPhone games at http://www.makegameswith.us. Once developers start on their original games, MakeGamesWithUs offers tools like automated global high score tracking and analytics to facilitate game development, produces all the art and music for games, and publishes them. MakeGamesWithUs has already published 16 games developed by high school and college students and is currently collaborating with 100+ developers on bringing their games to the App Store.