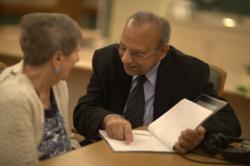 Northwest Ohio is home to 38,000 people living with Alzheimer's Disease.
Perrysburg, OH (PRWEB) May 31, 2013
What are the signs and symptoms of Alzheimer's or dementia? Is it strictly memory loss? Is it answering a senior loved one's same question for what seems like a thousand times? Is it odd behaviors or loss of some skills or rituals that were previously a given?
It is amazing how much news seems to be coming out daily on the Alzheimer's disease front — and, yet, how little is actually known so far. According to the recently released 2013 Alzheimer's Disease Facts & Figures report by the Alzheimer's Association, one-third of all seniors die with Alzheimer's or another type of dementia. It is the sixth leading cause of death in America.
"Northwest Ohio is home to more than 38,000 people living with Alzheimer's disease," stated Salli Bollin, Executive Director of the Alzheimer's Association, Northwest Ohio Chapter, "and with deaths from this disease continuing to rise, it is clear that urgent, meaningful action is necessary."
That alarming statistic is one among many reasons that St. Clare Commons has partnered with the Alzheimer's Association and with another dementia care expert, Dr. Govind Bharwani, Ph.D., Director of Nursing Ergonomics & Alzheimer's Care (Nursing Institute) and Co-Director of Ergonomics (College of Engineering) at Wright State University.
Dr. Bharwani, created Behavior-Based Ergonomics Therapy (BBET), and has been instrumental in the design of St. Clare Commons. BBET originated on the campus of St. Leonard in Centerville, Ohio, a sister community to St. Clare Commons, in 2010 and has since proven overwhelmingly effective. Follow up studies have shown 60 percent fewer uses of certain anti-psychotic medications for behavior management in St. Leonard's specialized dementia care program, a 35 percent reduction in resident falls and 55 percent drop in use of PRN (emergency) medications. There was also a more than 50 percent improvement in mood. The bonus of working within residents' capabilities, desires, and comfort levels: caregivers are half as likely to be injured.
With a lot of preparation, ergonomically designed features and proper training in use of space and abilities, residents feel better and even those who would normally withdraw are more engaged. Working with the many devices and systems as instructed by Dr. Bharwani, the team feels more at ease, residents feel less stressed. Everybody wins.
Dr. Bharwani has been recognized nationally and several Ohio communities have implemented his program to improve patient care. Long Term Living Magazine recently named Dr. Bharwani a "Leader of Tomorrow." The team at St. Clare Commons is excited to bring his methods and tools to Northwest Ohio.
Someone develops Alzheimer's every 68 seconds. As an Alzheimer's Early Detection Alliance member, St. Clare Commons has partnered with the Alzheimer's Association of Northwest Ohio to help the greater community with early detection which will in turn help the medical community gain more insight into the disease.
Help get the word out. Help early diagnosis. Help find a cure. Join the Alzheimer's Association, Northwest Ohio Chapter, on Friday June 21, for "The Longest Day," a sunrise-to-sunset team event honoring the strength, passion, and endurance of those facing Alzheimer's disease. It is also one of many events to help raise awareness, promotes early detection, and raises funds for research. Check out http://www.alz.org/nwohio for many other ways to get involved.
And learn how St. Clare Commons is ushering in the new era in senior living, as well as helping train the next generation of physicians, nurses, and caregivers. Call Jessica or Rachel at St. Clare Commons at 419-931-0050 or email info(at)stclarecommons.org.
####
St. Clare Commons is a member of Franciscan Living Communities and Sylvania Franciscan Health and is sponsored by the Sisters of St. Francis of Sylvania, Ohio, in partnership with Blessed John XXIII Catholic Community and the Catholic Diocese of Toledo. St. Clare Commons is expected to open later this summer just south of Levis Commons. It will offer Assisted Living, Specialized Dementia Care, Rehabilitation and Skilled Nursing and a host of never-before-seen amenities like a piano bar, restaurant and coffee shop serving Starbucks™ coffee.
Franciscan Living Communities is a non-profit leading provider of senior living services to 1,200 residents in communities throughout Ohio and Kentucky offering continuing care, independent living, assisted living, rehabilitation, skilled nursing, memory care and adult services. In all relationships, we commit to Reverence for, Service to, and Stewardship of the whole person with whom we are blessed to work. To learn more about Franciscan Living Communities, log on to our website at flcsylvania.org.