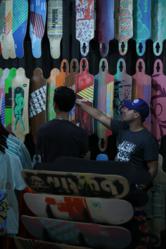 The best thing to do when you come in the shop is to narrow down what kind of board you want before you start drooling over the art.
Brooklyn, New York (PRWEB) May 30, 2013
Bustin Boards is a Brooklyn-based skateboard company developing high-tech boards with highbrow art. The company was started in 2001 by a 21-year-old Ryan Daughtridge who was determined to not only develop a better, more functional longboard but also build a brand that focused on "real" art as opposed to the traditional mass-produced skate graphics. Over the past 10 years, Bustin Boards has grown into an internationally recognized brand in part because of its evolution of skateboard technology, but also because of its commitment to the value of true art. Via their website and their two NYC stores, Bustin Boards offers a variety of programs to allow customers to either customize their own board or choose from an ever fresh assortment of artist printed "one-offs." All of their boards are hand-printed using an old fashioned screen printing technique and sealed with a water-based lacquer.
Heading into 2013, Bustin has expanded its options even further. They've just introduced the Fill Dip color option on their online customization program and are adding new special run graphic options each month in addition to their standard lineup of customizable prints. In addition, they have expanded their Brooklyn store to exclusively feature only artist "one-off" prints making it as much of an art gallery as it is skate shop. Hundreds of hand-painted decks line the walls on all sides of the shop accompanied by a friendly skate techy there to help you choose the right type of board for your style and skate ambitions. "People go crazy over all the graphics, but I try to help them understand that our boards are also very technical," says Bustin Brooklyn Store Manager Nick Collins. "The best thing to do when you come in the shop is to narrow down what kind of board you want before you start drooling over the art."
Bustin's other retail concept, "The Longboard Loft," is located just on the other side of the Williamsburg Bridge in Manhattan's Lower East Side. Like the Brooklyn store, the Loft features a giant artist-print wall of Bustin Boards that is filled with hundreds of fresh prints on any given day. In addition, the Loft location also carries a larger inventory of longboard related products catering to the growing marketing of longboard tech-heads and pushing the boundaries of what a customized skateboard can be. At the Loft, the customer can not only choose a hand-printed, one-of-a-kind board, but they can build it up with hundreds of options of trucks, wheels, bearings, griptape and more. "The Loft is kind of like the Bustin store on steroids," says manager Lindsey Turner. "We offer just about every longboard brand there is and help customers build perfect boards for their specific taste and riding style. The Bustin artist-prints not only sell better than all other decks, but they are great conversation pieces and allow us not only have a store, but a revolving art gallery too!"
To get your fix of skate-tech and skate-art, visit the Bustin Boards website at http://www.bustinboards.com to experience the interactive board customizer or visit one of their two retail locations:
Bustin Brooklyn Flagship Store
340 Grand Street, Brooklyn, NY 11211
(718) 218-7626
Longboard Loft NYC
132 Allen Street, New York, NY 10002
(212) 673-7947