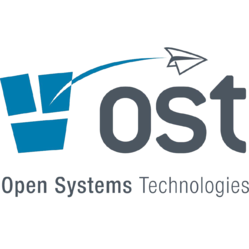 Grand Rapids, MI (PRWEB) May 30, 2013
With the recent announcement that Epic has given "Target Platform" status to VMware® Horizon View™ for EMR, healthcare technology leader OST (Open Systems Technologies) is poised for new opportunities to transform Virtual Desktop Infrastructure (VDI) in the industry.
As a leading solutions provider in healthcare, OST has been helping Epic customers implement VDI for more than 7 years. In fact, Metro Health & Kettering Health, two of OST's customers, have been referenced as premier case studies by VMware.
Through their vast experience,Open Systems Technologies has learned that technology is just one factor of successful implementations, according to their Chief Innovation Officer & Co-Founder, Jim VanderMey.
"The bottomline is that most solution providers focus only on the infrastructure assessment and miss key pieces critical to successful VDI implementations in healthcare and specifically in Epic environments. So, OST has asked the question: Is a quarter of the solution acceptable to your organization?," states VanderMey.
With an unprecedented understanding of the technology coupled with a deep understanding of the design principles/sciences and an in-depth ROI analysis in hand, Open Systems Technologies has recently unveiled a revolutionary approach. According to VanderMey, the following pieces consider all of the these success factors in order to create a successful VDI implementation:
Persona Workshop - Understanding the concerns of physicians, nurses, administrators and technicians across the organization in both inpatient and ambulatory environments is critical to the adoption and broader organizational approach to VDI. OST connects the IT staff to the Clinical Staff in a unique and creative way through this fun and engaging workshop that in one day will help IT understand the opportunity and impact of VDI in a profound way.
ROI - The ROI analysis is critical because most of the cost for VDI is borne by IT, but the organizational benefit and financial benefit is realized by the clinical staff. The amount of time that is saved by the clinical team is significant and material, especially given patient care staff shortages and satisfaction surveys driving broader CMS metrics.
Desktop Re-engineering – Defines the technologies needed to drive the user experience as defined in the Persona Workshop. Includes recommendations in a variety of categories that can be tweaked based on existing technologies and preferences.
Infrastructure Assessment – This is our "traditional" VDI Assessment that looks at storage, server, pods, Citrix vs. VMware, etc. needs.
According to Metro Health CIO, Bill Lewskowski, OST's approach is a differentiator.
"When I look at our virtualization strategy, our cloud strategy, our technology infrastructure strategy moving forward and being innovative our key vendors in all of that are OST and VMware. They have provided the virtualization in our data center, they are providing that virtualization in our desktop environment. We really look at it as a strategic advantage. It's a way to extend who we are, to not let it constrain our vision and our strategies, and extend out beyond our four walls at Metro," says Lewkowski.
In addition to the announcement of their groundbreaking approach to VDI, OST has also released a video case study, featuring Dr. Bradley Clegg, CMIO of Metro Health, which can be viewed on the company's website or YouTube page.
About OST
OST (Open Systems Technologies) is an $80 million company with offices in Grand Rapids, and Ann Arbor, Michigan, Minneapolis and London, England. OST has been focused on providing IT infrastructure services and products for over fifteen years; in addition OST offers security services, custom application development services, managed services, and advisory services. Since 2003, the company has grown its revenue at a compounded rate of over 30% annually. In 2007, 2008, 2009 2010, 2011, and 2012 OST was recognized in INC. magazine's 5,000's Fastest Growing Private Companies. OST was also listed on CRN's Tech Elite 250 in 2010, 2011, 2012 and 2013 and CRN's FastGrowth100 in 2007, 2008 and 2009 and on the Michigan 50 Companies to Watch in 2009.