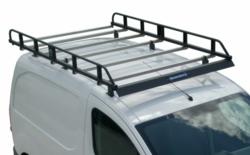 Gaining our N1 status has meant many more enquiries and sales from dealer networks and utility companies. With this comes more administration, more employees and more work for our Human Resources and Health and Safety Teams.
Bolton, Lancashire (PRWEB) May 29, 2013
As a direct result of the steady increase in internet and phone orders Vanliners are delighted to announce the appointment of Janine Rees.
Mrs. Rees will be responsible for Human Resources, Health and Safety and over-seeing their continued compliance with the ISO 9001:2008 accreditation. Vanliners, the retailer of roof racks for vans has held this accreditation for many years.
Janine previously worked for Bolton Council and her many duties included Health and Safety procedures as well as varied Human Resources tasks.
She enjoyed a particularly good relationship with the staff of the Lancashire town's largest employer.
Her new position will see her take on a similar role as well as making sure Vanliners remain ISO 9001:2008 compliant.
According to the ISO website ISO 9001:2008 specifies requirements for a quality management system where an organization:
Needs to demonstrate its ability to consistently provide product that meets customer and applicable regulatory requirements, and aims to enhance customer satisfaction through the effective application of the system, including processes for continual improvement of the system and the assurance of conformity to customer and applicable regulatory requirements.
Sales have increased for a number of reasons and Janine has been employed to help with the increased workload for these already busy departments.
Vanliners, suppliers of roof racks for vans have seen sales grow because of continuous investment in their website and especially search engine optimisation and Google Pay Per Click campaigns.
The van racks retailers has continued to grow because of their continued dedication to customer service and an ability to fulfil orders quickly and efficiently.
Their capability to take on large contracts coupled with the flexibility to supply the smaller business has meant a steady growth in profits for the van ladder suppliers.
Recently Vanliners gained N1 status and this has been a contributing factor in increased sales as the new law means many companies that don't have this accreditation can no longer carry out various vehicle modifications.
Category 'N' vehicles are designed and constructed for use on the road, with or without bodywork having at least 4 wheels and a maximum design speed exceeding 25km per hour.
It is considered imperative and urgently necessary that the cabs of motor vehicles of category N do not exhibit sharp external projections to reduce the risk or the severity of injuries sustained by a person coming into contact with the external surface of the vehicle in the event of an accident. It also ensures that vehicle lights and number plates are clearly visible.
The Enhancements Scheme Process Document has been revised and new Type Approval processes came into effect on Monday 29th April 2013.
It only affects those that install or fix products to vehicles which are not registered with the DVLA and are less than 2 metres in height. To date all registered vehicles are not affected.
For the purposes of this Directive, "vehicle" means any motor vehicle intended for use on the road, with or without bodywork, having at least four wheels and a maximum design speed exceeding 25 km per hour, and its trailers, with the exception of vehicles which run on rails. Some agricultural vehicles are also exempt.
"I'm thrilled to now be a part of the Vanliners team, I've only been in the job a few days and everyone has made me feel welcome" said Janine who is now employed by the van roof bars specialists.
"I'm getting to grips with the systems and how Vanliners functions. My main task is to continue to ensure everything runs as smoothly as possible. I also have a few ideas of my own that I know work from my days at Bolton Council. Continuing the great work with ISO 9001:2008 particularly interests me and I will make sure that Vanliners continue to improve by implementing their principles and working systems" added Mrs. Rees who will be responsible for the van roof bars suppliers' Human Resources department.
"We looked at lots of high calibre candidates for this position. Many had similar experience and qualifications but it was Janine's warm personality that swung it for us. Also her experience working with Bolton Council was a plus point," said Shaun of the Bolton based ply lining firm.
"We employ a large number of people in the Bolton area and we felt that Janine's experience in dealing with local people would be an advantage," Mr. Taylor added.
Bolton Based Vanliners was established more than fifteen years ago and has grown steadily since its inception. Originally the Company manufactured ply lining kits but soon extended its product range to cover most products associated with vans and commercial vehicles.
Vanliners are based on Raikes Lane Industrial estate in Bolton, Lancashire.
"Gaining our N1 status has meant many more enquiries and sales from dealer networks and utility companies. With this comes more administration, more employees and more work for our Human Resources and Health and Safety Teams. We expect Janine will be very busy," said Shaun.
"Due to our increase in sales we are soon going to be employing two new auto electricians to cope with the increase in this type of work," he added.
"Vanliners will be investing in new CNC machinery shortly to help cope with the extra demand. The new machinery will mean that we will be able to manufacture and deliver our ply lining kits even faster. We are aiming for next day delivery on many models" said Shaun.