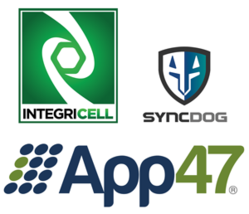 We want to enable customers to deploy and manage mobile apps with as much speed and security as possible.
Washington, D.C. (PRWEB) May 29, 2013
IntegriCell Group, Inc., a recognized global leader in mobile security products and consulting services, today announced it has signed a partner agreement with App47, a leading mobile application management (MAM) provider. IntegriCell's IT security correlation solution, SyncDog, will provide enhanced security to apps deployed using App47's MAM platform. The partnership reinforces App47's delivery of best-in-class MAM, from deployment through app management to performance analytics, maintaining both enterprise and user data privacy while optimizing ROI.
Functionally, SyncDog will complement App47's 128-bit encrypted SSL with an IT security correlation engine that monitors mobile device and app interactions, and identifies patterns of behavior that might be indicative of cyber threat. When a potential threat is discovered, a proactive alert in the form of a help-desk ticket can be automated with detailed root-cause analysis data for more rapid resolution. Enterprises deploying the SyncDog/App47 solution will enjoy an end-to-end mobile application deployment and management platform that is fully compliant with performance metrics, and wrapped in a proactive end-to-end IT security solution.
"Smart phones and tablets are contributing tremendously to the complexity problem in IT shops today," said Jonas Gyllensvaan, IntegriCell CTO. "It is becoming increasingly harder to manage all of the applications on mobile devices while maintaining the security and compliance of the enterprise. This partnership gives our customers more ammo to fight the battle."
A recent study by Gartner, Inc. projected that by the year 2018, 70 percent of mobile professionals will conduct their work on personal smart devices. The report cites three key operational challenges enterprises will have to deal with as more personal phones and tablets invade the workplace – governance and compliance, mobile device management, and security.
"Our goal with SyncDog and the IntegriCell agreement is simple," said Chris Schroeder, co-founder and CEO of App47. "We want to enable customers to deploy and manage mobile apps with as much speed and security as possible. Enterprise mobility is fraught with complexities, from disparate devices and platforms to wide distribution via its global reach. Our partnership with SyncDog provides a solution that constantly monitors these complexities and alerts our users to threats. This will help our customers realize the true advantages of mobility, mitigating risks and maximizing effectiveness."
More information on IntegriCell and SyncDog can be found by visiting http://integricell.com/products/. For more information on App47, please visit http://app47.com/features/.
About IntegriCell
IntegriCell delivers software solutions and services that provide insight to advanced persistent threats (APTs) that impact mobile devices for enterprise organizations, government agencies and end-user consumers. IntegriCell's featured mobile security products are KeyLime, a universal hardware device for mobile security, and SyncDog, a software solution that correlates phone message logs to reveal patterns of user behavior indicative of cyber threat. The roots of IntegriCell date back to the early days of information security at Microsoft where IntegriCell founder Aaron Turner served as security strategist. Turner eventually landed in research and development at the U.S. Department of Energy's Idaho National Laboratory, where the first known usable amounts of electricity were generated from nuclear power.
Originally a services company, IntegriCell's professional services offerings are designed to be accelerated knowledge transfer engagements targeting enterprise risk managers, network operators, infrastructure managers, government entities and law enforcement. For more information on IntegriCell, please visit http://integricell.com.
About App47
App47 specializes in the enterprise mobile application management (MAM) lifecycle, from deployment, through management, to performance analytics and ROI while ensuring enterprise and user data privacy, and optimized mobile user experience. App47 offers a free trial version of its MAM solution, and allows users to automate mobile application deployment by creating their own self-service enterprise app store.