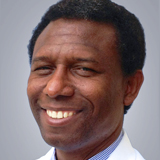 Cape Coral, FL (PRWEB) May 29, 2013
Coast Dental Cape Coral is proud to welcome Dr. William Mathurin to its team of general dentists and specialists. Dr. Mathurin will join the practice, which is located at 1435-A Southeast 8th Terrace in Cape Coral, Florida, on June 3. To request an appointment, please call (239) 574-2000 or visit http://www.CoastDental.com/CapeCoral.
Dr. Mathurin has more than 15 years of experience helping people smile. He treats adults, teenagers and children. Dr. Mathurin specializes in correcting problems with the teeth, gums, jaw and face, including problems caused by impacted wisdom teeth, missing teeth, facial trauma and oral cancer. His services include bone grafting, cosmetic surgery, dental implants, extractions, oral pathology, and orthognathic surgery.
Dr. William Mathurin was born on the tiny island of St. Lucia. He earned his undergraduate degree in biology at Towson University in Maryland and worked at Johns Hopkins University before earning his Doctor of Dental Surgery degree and a Master's Degree from the University of Maryland. After practicing general dentistry in Florida for nine years, he then completed his medical degree and general surgery internship at the Louisiana State University School of Medicine. He then went to Mount Sinai School of Medicine in New York where he was awarded the Certificate of Oral and Maxillofacial Surgery.
Coast Dental accepts more than 200 types of insurance and offers SmilePlus® for patients without insurance, which can save them up to 70 percent on dental costs.* Financing plans are available for patients who qualify. For more information, visit http://www.CoastDental.com or call 1-800-32-SMILE.
About Coast Dental
Coast Dental, P.A., with its professional associations, is one of the largest providers of general and specialty care in the United States with more than 175 affiliated practices operating as Coast Dental, SmileCare and Nevada Dental Associates in Florida, Georgia, California, Nevada and Texas. Coast Dental Services, Inc. is a privately held practice management company that provides comprehensive, non-clinical business and administrative services to its affiliated practices. The company is headquartered in Tampa, Florida. For more information, visit CoastDental.com.
Disclaimer
*SmilePlus® is not a registered insurance plan. SmilePlus cannot be combined with insurance or discount dental plans. Minimum fee only. Fee may vary with complexity of case. The patient and any other person responsible for payment has a right to refuse to pay, cancel payment, or be reimbursed for payment for any other service, examination, or treatment that is performed as a result of and within 72 hours of responding to the advertisement for the free, discounted fee, or reduced fee service, examination, or treatment.The dentists and hygienists are employees or independent contractors of Coast Florida P.A., or Coast Dental, P.A., (Adam Diasti, DDS, DN12490). © 2013 Coast Dental. All rights reserved. CD-101596