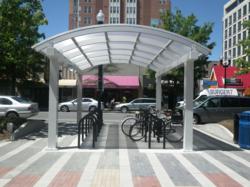 Duo-Gard Chooses Arlington Model for Standard Line
Canton, MI (PRWEB) May 29, 2013
Ranked as one of the most bicycle-friendly communities in the country, Arlington County in Virginia recently added two new covered bike shelters manufactured and installed by Duo-Gard Industries Inc. The company, a leader in special-purpose outdoor structures, has added the Arlington model to its growing line of standard bike shelters.
Located in Metro Plaza's Clarendon Central Park, the 14' x 18' custom shelters feature the soaring curve of a barrel vault roof supported by graceful columns. The translucent roof is 20mm opal polycarbonate in a batten system. Aluminum columns in 8"x8" tubes and rafters in 2 ½" x6" tubes provide exceptional strength for the structure. Each shelter accommodates 24 bikes. The design complements the County's first covered bike shelter installed five years ago. This style, sophisticated in its simplicity, harmonizes with the design of the adjacent County bus transfer facility.
Arlington County wanted a structure that was aesthetic, low maintenance, cost effective and recognizable as a bike shelter to protect the two-wheelers from the gentle rain that's the area's most common wet weather. Duo-Gard's translucent, multiwall polycarbonate roof, virtually shatterproof, provides that protection and also adds the benefit of diffused daylight.
The League of American Bicyclists ranks Arlington as one of America's most bike-friendly communities. The area's 210,000 residents enjoy more than one hundred miles of trails, on-street bike lanes and designated bike routes, all aimed at increasing ridership for both recreation and commuting. The County's ambitious BikeArlington program provides comprehensive encouragement and support covering every aspect of biking for residents and businesses with events and classes ranging from how to buy a bike to how to ride one for those who never learned.
The new covered shelters take biking accommodation beyond the parking racks throughout the area. David Patton is the Bicycle and Pedestrian Planner for the Arlington County Division of Transportation. He said the County wanted to make a statement to the community: "We take bicycling seriously and value the contribution that bicycling adds. We strive to offer a range of transportation options and want to make the connections between modes safe, straightforward and convenient.
"We think that covered bike parking is here to stay and that we have an adaptable design that could suit a number of locations. It's all part of making cycling normal, convenient, safe and available."
And Arlington County's response to the shelters? "People love them," Patton said.
Duo-Gard has provided covered, enclosed and secured bike shelters in standard and custom designs for hundreds of municipal, educational, industrial and commercial projects. "We're pleased to have been selected to strengthen Arlington County's commitment to its bicycling community," said Michael Arvidson, Duo-Gard's executive vice president.
For more information about Arlington County's biking program, visit http://www.bikearlington.com.
For more information about Duo-Gard's bike shelters, visit http://www.duo-gard.com.
About Duo-Gard Industries Inc.:
Duo-Gard Industries Inc. is a leading innovator in special-purpose shelters, high-performance translucent daylighting systems and architectural illumination, as well as custom canopies and outdoor structures. For over 29 years, Duo-Gard has advanced translucent technology with design, engineering, fabrication and installation of custom architectural products that enhance sustainability. Duo-Gard was established in 1984 and is based in Canton MI. The company was honored in May 2012 as one of the Michigan 50 Companies to Watch in 2012. For additional information, please visit http://www.duo-gard.com.
Editorial contacts for Duo-Gard:
Julie Mead, Marketing Manager
810-623-0561 / jmead(at)duo-gard(dot)com
Linda Byam, Marketing Consultant
248-761-7990 / lbyam(at)duo-gard(dot)com
Photo Courtesy of Arlington County