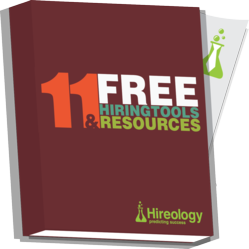 "This guide simply offers managers alternatives to pricy, complicated hiring tools." -- Margot Nash, product development director
Chicago, IL (PRWEB) May 29, 2013
Hireology, a leader in the talent management software space, has published an eBook featuring the top free hiring tools and resources. Focusing specifically on hiring managers and HR professionals, the content of this guide is designed to directly support their onboarding needs and overcome recruiting and retention hurdles.
Highlighting a variety of cost-effective tools,"11 Free Hiring Tools and Resources" explains how everyday technologies can be utilized to improve one's hiring process. Referencing tools like HootSuite, Career One Stop and Craigslist, the eBook recommends how each tool can be tailored to fit the hiring needs of all positions and industries. More importantly, it outlines how readers can begin using these websites to their fullest potential - even with minimal experience working with the tools.
"There are so many resources out there for hiring managers to assist in their hiring processes," said Margot Nash, Hireology's product development director. "But they're not always easy to use, and often times, such tools can quickly break the budget. So this guide simply offers managers alternatives to pricy, complicated hiring tools."
To learn about the tools included in "11 Free Hiring Tools and Resources," download the guide here. For more information about low-cost hiring, please visit Hireology's Better Hiring Today Blog.