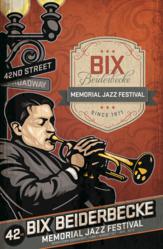 DAVENPORT, Iowa (PRWEB) May 30, 2013
The Bix Beiderbecke Memorial Jazz Society will celebrate the life and music of Leon "Bix" Beiderbecke at the 42st annual Bix Beiderbecke Memorial Jazz Festival, August 1-4, 2013, in Davenport, Iowa.
This year's lineup will feature Johnny Crawford, jazz vocalist and actor. Crawford gained fame as a child star playing Mark McCain on the TV series, "The Rifleman" a western set that aired in the 1950s and 1960s. A fan of Bix, Crawford will perform songs from the Whiteman and Goldkette libraries.
Also new to the Bix Beiderbecke Memorial Jazz Festival are:

Cecile McLorin Salvant, a talented young jazz vocalist who has performed at Jazz à Vienne, Jazz at Lincoln Center Orchestra in New York's Lincoln Center and Chicago's Symphony Center
Jon Weber, a true original, is quickly becoming a favorite at New York's 92nd Street "Y" jazz series, performing piano duos with Dick Hyman, the late Sir Roland Hanna and Cyrus Chestnut
The Quad Cities own Tony Hamilton Orchestra will make a debut at this year's festival
Returning to the festival are: Andy Schumm & His Flatland Gang, Josh Duffee's Graystone Ballroom Orchestra, Randy Sandke's New York All-Stars, Bob Schulz's Frisco Jazz band, Dan Levinson's Roof Garden Jazz Band, Dave Greer's Classic Jazz Stompers, River City 6, Jimmy Valentine Quintet with Dave Bennet, Five Bridges Jazz Band, Many Lopez Quartet and the Bix Beiderbecke Memorial Youth Jazz Band.
Other highlights of this year's festival include:

QC SoDa will return to host a seminar and workshops to teach festival goers the popular dances of Bix's day and lead dances at the evening concerts
The story of Agatha Beiderbecke, Bix's mother, portrayed by Wendy Hammen
A graveside service at the final resting place of Bix Beiderbecke
Jazz Liturgy at the Beiderbecke family church, First Presbyterian Church, Davenport, Iowa
Tickets are $25 for a single concert or $45 for a day pass. Concerts will be held at the RiverCenter and Adler Theatre, 136 E. 3rd St., Davenport, and LeClaire Park, 700 W. River Dr., Davenport. For more information, visit http://www.bixsociety.org.
The Bix Beiderbecke Memorial Jazz Society was founded in 1972 to perpetuate the music and memory of Leon "Bix" Beiderbecke through an annual jazz festival, jazz education programs and the preservation of traditional jazz.