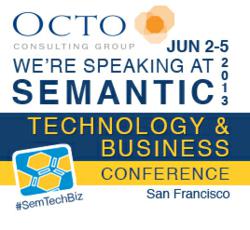 We believe Semantic Web standards and technologies enable us to contextualize raw data from multiple, disconnected data sources into actionable information that aids critical decision making, says Ashok Nare, Chief Technology Officer of Octo Consulting
McLean, VA (PRWEB) May 29, 2013
Octo Consulting Group is pleased to have been accepted to speak at the Semantic Technology & Business Conference to be hosted in San Francisco, CA from June 2nd until June 5th. Consultants Dr. Charles Mead, MD., MSc., and Michael Lamoureux, MBA will be speaking on the topic of "Case-Study using Semantic Web Technologies to perform cross-study health comparisons, integration of Health Data Standards." In Octo's presentation, the strategy of using common metadata repositories to enable cross-study analysis on clinical trials enabled by the Semantic Web will be discussed.
"We believe Semantic Web standards and technologies enable us to contextualize raw data from multiple, disconnected data sources into actionable information that aids critical decision making," says Ashok Nare, Chief Technology Officer of Octo Consulting. "The investment in Semantic Web solutions, in collaboration with the Health Care and Life Sciences segment, underscores our commitment to bring innovative solutions to market that address data integration, interoperability and analysis issues as part of Octo's Technology Solutions division."
"This is an exciting step for Octo as the firm will focus our solutions to the specific domains we support, including the health and life sciences segment," says Octo Executive Vice President Jay Shah. "We are seeing a lot of potential for our Semantic Web solution to help with integrating important health data that is otherwise difficult to bring together."
Octo's participation in the Semantic Technology & Business Conference demonstrates our commitment to open data standards and technologies that promote interoperability across the web and within an organization. Octo believes that doing so promotes a environment where an organization can achieve more with its IT initiatives, driving data to information through better analytics, visualizations, and metrics. Octo promotes these efforts through our work with the W3C and through thought leadership with public and private sector clients. Octo Consulting Group plans to release a white paper on Linked Data that will be published during the week of the conference, which can be found on their site Thought Leadership blog.