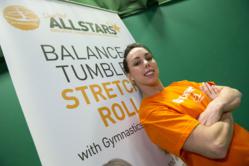 (PRWEB UK) 30 May 2013
Three-time World Champion and Olympic bronze medallist, Beth Tweddle MBE, inspired children on David Lloyd Leisure's Gymnastics All Stars programme with a live floor display and coaching session.
The youngsters were overjoyed to watch their sporting heroine in action as well as learn some top tips on Wednesday (May 29) at David Lloyd Hampton, Staines Road, Hampton, south-west London.
Beth, who is Britain's greatest ever female gymnast, also delighted her fans by bringing along her Olympic bronze from the London Games 2012 and the trophy she won recently in ITV1's Dancing on Ice, as well as signing autographs and posing for photos.
The star is the founder and director of Total Gymnastics, which endorses David Lloyd Leisure's Gymnastics All Stars coaching programme, aimed at helping youngsters develop fundamental skills in strength, flexibility and co-ordination whatever their ability.
Gymnastics All Stars, which launched last year and adds to David Lloyd Leisure's Tennis and Swimming All Stars junior coaching programmes, is available to 3-7 year-olds at selected David Lloyd Leisure clubs.
It follows the Total Gymnastics Gym Stars programme, which is built around a badge award scheme, providing children with an inspiring and exciting way to build skills, step by step, through the use of simple equipment such as bean bags, balls and ribbons in a fun and safe environment.
Beth said: "It was wonderful meeting so many children who have been inspired by the Olympics and want to learn gymnastics from such an early age.
"It's fantastic that David Lloyd Leisure have gymnastics in their 'All Stars' portfolio. I strongly believe that every child should have the opportunity to try gymnastics, no matter what their ability."
Sarah Hobbs, head of sport, health and fitness for families at David Lloyd Leisure, said: "The children have been so excited about meeting Beth, who is such an amazing role model for any aspiring young gymnast and an incredible ambassador for the sport – they will never forget such a special day!"
"We are very proud that Beth and Total Gymnastics have endorsed our Gymnastics All Stars coaching programme, which has been proving extremely popular. Every parent wants their child to learn the basic abilities that are essential to their early development and Gymnastics All Stars is brilliant for teaching those core skills."
Contact details: For further information about this press release, contact the David Lloyd Leisure press office on 01707 289833/4 or email press(at)davidlloyd(dot)co(dot)uk.
Notes to editors
About David Lloyd Leisure Group
The David Lloyd Leisure Group operates 81 clubs in the UK and a further 10 clubs across Europe. It has over 440,000 members and employs 6,000 people. This includes an expert health and fitness team of over 1,800, while it contracts the services of more than 400 tennis professionals. Across all clubs, David Lloyd Leisure has over 150 swimming pools (of which half are indoor) and offers over 10,000 exercise classes per week. Every week 20,000 children learn to swim at David Lloyd Leisure and 14,000 learn to play tennis. Its racquets facilities are unparalleled with 700 racquets as well as 180 badminton courts and 140 squash courts. Additional facilities include health and beauty spas, club lounges with free Internet access, crèches, nurseries and specialist sports shops.
About Beth Tweddle
Beth Tweddle is Britain's most successful ever gymnast with three world gold medals in her collection, along with six European titles. She made her Olympic debut as a 19-year-old in Athens. In the Queen's New Year's Honours list 2010, Beth was awarded an MBE for her success, commitment and dedication to the sport of gymnastics. At the London Games 2012, she won Olympic bronze in the uneven bars. In March, 2013, Beth was crowned ITV1's Dancing on Ice champion.
About Total Gymnastics
Total Gymnastics is a dedicated gymnastics company set up by Beth Tweddle MBE to provide gymnastics classes in Liverpool, Essex and Nottingham, with new areas continuously being added to its portfolio. The Total Gymnastics Academy launched in 2010 and allows young people of all abilities to join in with gymnastics and learn the fundamental movements, develop their talent and learn new skills. For more information, see: http://www.totalgymnastics.co.uk