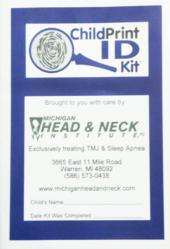 I want parents to find comfort in knowing they are prepared if they ever do need the kits, but honestly I hope the parents will have to do nothing more than update information in the kits each year
Warren, MI (PRWEB) May 30, 2013
This week, Michigan Head & Neck Institute dropped off approximately 400 child safety kits to a local elementary school.
At a time when there seems to be a lot of talk about kidnappings, constantly reflected on daily news programs, the company thought this would be a great way to offer what help they could to keep local children safe, and parents informed. In addition to great safety tips for children and parents, there is also a place in the kits for an updated picture, a bag for a hair sample, a section to keep fingerprint records, a place to sketch where any identifying marks such as scars or birth-marks might be on the child, a diagram to show dental work, and other information to be readily available in the unfortunate event a child goes missing.
Their goal is to make parents feel confident and educated about child safety. For parents that have children who attend Crothers Elementary School, they got a great way to record their child/children's information which they will hopefully never have to use for anything but peace of mind.
"I want parents to find comfort in knowing they are prepared if they ever do need the kits, but honestly, I hope the parents will have to do nothing more than update information in the kits each year," said Dr. Klein, of Michigan Head & Neck Institute.
The company is always looking for ways to give back to their community, and this was just one of the many ways they have demonstrated their community involvement. Pictures can be found on their Facebook page.